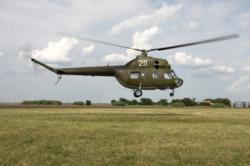 Lancaster, TX (PRWEB) January 07, 2012
The Cold War Air Museum (CWAM) located in Lancaster, Texas has recently combined forces with University of Iowa's Operator's Performance Lab (OPL) by selling a helicopter to OPL for use in human factors research. OPL is a leading human factors research organization that conducts research on manned and unmanned aerial systems. It is a member unit of the Center for Computer Aided Design at the College of Engineering. The newly acquired helicopter will be instrumented at OPL with state of the art equipment that can measure pilot workload in real-time using sensors that capture brain waves, electrocardiogram, eye gaze behavior and many other human behavioral metrics of the crew. Additionally, the helicopter will be equipped with advanced avionics navigation systems, data links, and external sensors such as a laser range finders, radars, and other electro-optical devices. The work at OPL aims at designing improved human-machine systems that increase efficiency, inter-operability, and safety for aircraft of all types.
The Cold War Air Museum will continue to help mechanically support the Polish made helicopter with the hope that this asset transfer will yield future joint projects to improve flight safety and measure aircraft reliability.
OPL identified the Cold War Air Museum as having the largest selection of cold war era fixed winged and rotor craft and the greatest support infrastructure for such aircraft. The museum has staff and volunteers with a wealth of knowledge and expertise in operation and maintenance of complex aircraft from the cold war era. The Cold War Air Museum is a non-profit educational institution whose mission is to exhibit, educate, and eternalize the role that Cold War aircraft, pilots, and other personnel had during this conflict. In addition to flying aircraft, related artifacts, artwork and library resources are used to perpetuate the history of this period. A portion of the 45,000 sq. ft. museum is a working restoration facility which is actively returning many Cold War era aircraft to flying status. This transfer furthers the Museum's mission to assist educational programs and assist with research and development.
OPL is located in Iowa City, IA, http://www.ccad.uiowa.edu/
Cold War Air Museum is Location in Lancaster, TX, http://www.cwam.org
# # #