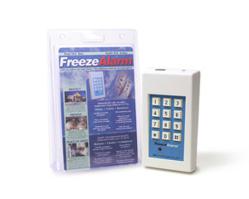 Protect your property and your finances with a freeze alarm from Home Security Store.
Riverside, CA (PRWEB) January 06, 2012
Minnesota, Wisconsin, Illinois, New York, Michigan, and Ohio are some of the coldest states in the nation during the winter months, according to the National Climatic Data Center. This means for many people in those parts, and all over the U.S. for that matter, it's time to winterize your home. Is your property prepared for the cold months ahead? That's the question Home Security Store Sales Manager Ruben Cervantes is asking his customers.
"Preparing for old man winter means more than just pulling out your winter coats and gloves, especially if you own a home. Because a busted pipe on your property can be a real nightmare, preparation is key," said Cervantes. The Wilhelm Insurance Agency agrees. Agents recommend taking the time now to clean or replace your home's heating system before turning it on for the first time. Wilhelm agents also say to inspect storm doors and windows for cracked gaskets, seals, or glass and make the necessary repairs. In addition, here are some other tips –
1. Remove leaves, acorns, sticks, and other debris from gutters before the freeze.
2. Ensure that your snow blower and other snow removal equipment are in good working condition.
3. Survey the trees in your yard and around your home. Is snow covered branches would it endanger any part of your house or cars? If so, trim them back.
4. Examine the installation in your attics, crawl spaces, and basements.
5. During the winter set your interior temperature to at least 65 degrees, even when you will not be home.
6. Learn where shut-off valves are for all plumbing.
And last, but not least, take similar precautions for your vacation home. Make sure all pipes are drained and the toilet is empty so expanding ice cannot crack the porcelain. Furthermore, install a freeze alarm in your vacant home. Freeze alarms are an easy and inexpensive way to avoid what can be expensive damage. So says Home Security Store Vice-President Ralph Winn, who has over 38 years of experience in the security industry.
"Every freeze alarm varies slightly, but most operate on the same premise: it alerts you, usually via phone, when the temperature inside your home drops below (or nearly below) freezing. When you receive a pre-recorded voice message from the freeze alarm, you can then remotely respond and take immediate action to protect your home," said Winn.
In addition, a more advanced freeze alarm may allow you to preset the temperature alerts according to your own preference, or send alerts to multiple phone lines.
"Often, a freeze alarm will double as a heat sensor as well, alerting you to high temperatures that may be hazardous to plants or pets if your air conditioning fails. Installation is typically no more difficult than plugging in a phone cable and maintenance usually requires 9-volt batteries," said Winn.
Winn adds that some freeze alarm models allow you to check the battery charge, or call into the system to check the temperature in your home, cabin, or greenhouse - and that's exactly what Dave Greene does, who leaves his New Hampshire home in the winter for warmer Florida four months out of the year.
As it happens, Greene is also President of Insurance24.com Inc. and advises his client base on how to protect their families and properties from accidents and disasters.
"I advise my New England clients, who leave their homes during the winter months, to shut off their water supply and install a freeze alarm," said Greene. Greene practices what he preaches too. That's why he calls his freeze alarm twice a day to check the temperature of his New Hampshire home all the way from Florida.
Remember, potential dangers of freezing temperatures are often times overlooked. Frozen pipes are known to burst, which can cause extensive water damage to both homes and businesses. Protect your property and your finances.
About Home Security Store, Inc.
Home Security Store is the premiere online ecommerce website specializing in affordable DIY wireless and hardwired home alarms, security camera systems, fire protection, spy equipment, survival gear, and more. The company brings together highly-trained, professional technicians and a state-of-the-art product line to provide the most comprehensive security source found online. The company offers FREE and FAST shipping, plus FREE tech support. For more go to http://www.homesecuritystore.com
###