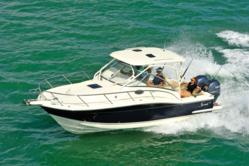 Timeless styling and painstaking perfection are fused into every model we create, in order to produce the most attractive, highest performing and fuel efficient boats possible
St. Joseph, Michigan (PRWEB) January 05, 2012
Pier 33 Marina has announced display plans for the upcoming 2012 Progressive Insurance Chicago Boat, Sports & RV Show, to be held Thursday thru Monday, January 12 thru 16 at McCormick Place in Chicago, Illinois.
Pier 33 is a full-service marina and boat dealership located in St. Joseph, Michigan. Pier 33's new boat brands include Chaparral, Pursuit and Scout. A main feature of Pier 33's Chicago Boat Show display will include an exciting array of Scout Boats.
Scout Boats were first shown by Pier 33 at the 2011 Chicago event and were very well-received by show visitors. Scout is an independent boat builder, located in Summerville, SC. This unique line of high-quality center consoles, runabouts and fishable cruisers is known throughout the boating world for innovation in design and engineering, as well as for efficient performance and an abundance of fishing features.
According to Scout Founder & CEO Steve Potts "Timeless styling and painstaking perfection are fused into every model we create, in order to produce the most attractive, highest performing and fuel efficient boats possible".
Pier 33's Scout display will include the Chicago debut of Scout's 262 Abaco, powered by twin Yamaha outboards and featuring a cabin comfortable enough for family weekending, cockpit shelter provided by a stylish hardtop and plenty of open cockpit space for aggressive big-lake fishing. Another Pier 33 show entry will be the debut of the Scout 177 Dorado, part of Scout's new 177 series --- four versatile, affordable skiff-like runabouts. Pier 33's full boat show line-up can be viewed at http://www.pier33.com/boatshows.
In addition to the impressive display of new boats and RV's, the 2012 Progressive Insurance Chicago Boat, Sports & RV Show will provide show-goers with a wide variety of entertaining "extras", such as Rail Jam, Fred's Shed, Paddlefest, Welcome to the Water and much more. An adjustment in this year's show schedule, now to include Monday January 16 (Martin Luther King Jr. Day) will allow many families an extra free day from work and school to visit the boat show.
"We're very excited to be back to the show with Scout Boats again this year" said Pier 33's General Manager Tighe Curran "and the start of the boat show is always a sure signal that the season isn't all that far away. Spring launch begins in less than 90 days".
The boat show is an ideal venue for boaters to shop, compare and commiserate with their boating neighbors. "Whether you're a first-time boater or a seasoned cruiser, this show is a great place to gather information that could help you choose your next new or used boat" says Curran.
Pier 33 is Michigan's largest dealer for Scout and serves boaters from a wide region including Michigan, Indiana, Illinois and beyond. Many boat show visitors travel from surrounding states to enjoy this big, mid-winter boating event.
To keep boaters and show-goers informed on boat show specials, news, photos and videos, Pier 33 will be providing frequent updates before, during and after the boat show on http://www.facebook.com/pier33marina and Pier 33's Boat Show Blog.
###