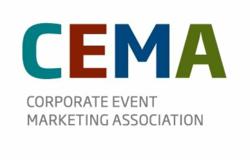 Washington, DC (PRWEB) January 11, 2012
The Corporate Event Marketing Association (CEMA) will host "Communicate. Educate. Advocate: Leveraging Social Media in Today's Changing World," a unique educational afternoon exploring the role of social media by some of its most cutting edge users. CEMA will present an impressive lineup of speakers and explore best practices for senior event marketers during this half-day event in the Washington, D.C. metro area on Wednesday, February 8. Attendees will have unprecedented access to some of today's most innovative marketing professionals.
WHO: Corporate Event Marketing Association (CEMA)
WHAT: A half-day professional education and networking event bringing together the best and brightest in event marketing from the D.C. metro area.
Speakers will include Jeff Davidoff, Chief Marketing Officer (CMO) of Bono's nonprofit One.org; Brad Nierenberg, owner and founder of RedPeg Marketing; and Discovery Channel's CMO David Shackley and vice president of Global Events, Jeff Kaplan.
WHEN: Wednesday, February 8, 2012, from 11:30 a.m. to 5 p.m.
WHERE: Discovery Communications Global Headquarters, located at One Discovery Place, Silver Spring, Md.
MORE: CEMA welcomes nonmembers as well as members to this event. Cost is $125 for members, $199.00 for nonmembers. To register, visit cemaonline.com. CEMA is also on Facebook at Facebook.com/CEMAonline.
About CEMA
A voice for the industry, CEMA (Corporate Event Marketing Association) is the premier community for technology event marketing professionals, association peers and partners. CEMA promotes professional networking opportunities, facilitates peer-to-peer knowledge sharing and drives industry standards. Through strong relationships with strategic partners, CEMA creates solutions to business issues. For more information, please visit cemaonline.com or call (916) 740-3623.
# # #