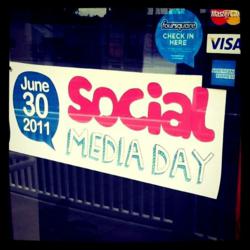 it's our job to provide a positive living experience for residents while they are here at the University of Florida and at Santa Fe College
(PRWEB) January 18, 2012
Contemporary Management Concepts (CMC) provides apartments in Gainesville, Fl for University of Florida, Santa Fe College and other local college students as well as young professionals. Online, they provide much more by offering food and music reviews aimed at connecting with local students and providing a savory "value add" for their existing residents.
Foodspotting, a popular website and smart phone app (available on iPhone, Andriod and Blackberry), offers the perfect vehicle to connect great local restaurants and hungry students.
Melanie Ling, Director of Social Media and Marketing for CMC, is using Foodspotting to bolster her social media strategy and has posted over 160 photos of tasty local dishes. Ling ties in other social media channels as well. She provides restaurant reviews on the CMC blog and even includes YouTube video reviews which she embeds into the CMC blog posts. Most of this food related content is produced directly from her trusty iPhone running the Foodspotting app.
Local Focus - National Exposure
Brand exposure recently reached new heights when Contemporary Management Concepts' unique social media strategy was featured on OPEN Forum by American Express and even garnered attention from the popular social media news site Mashable.com.
Their social media efforts are benefiting local restaurants as well. The exposure that Ling's reviews are bringing has helped Gainesville-area restaurants share their best dishes to the community and has increased traffic to both businesses. Ling says the first rule of their social media campaign is 'Produce and Share'. "We share food photos on Foodspotting, leave tips on Foursquare, post cool recipes on Pinterest". "We think 'how do we get the content out there, faster and in more places to reach a larger audience to just make it happen".
Ling hopes to continue the success. "My goal is to be much more than the leading property management company in Gainesville. We live here, we're the locals - so it's our job to provide a positive living experience for residents while they are here at the University of Florida and at Santa Fe College. We want to engage them on Facebook, Twitter, YouTube, Foursquare, Foodspotting, Instagram, Pinterest and every other social media outlet that contributes to that experience."
###