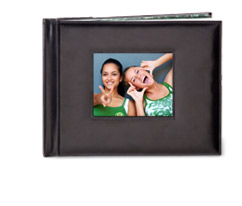 Select products are on sale for orders placed by 11:59 p.m. Central Time on Jan. 26.
St. Cloud, Minn. (PRWEB) January 11, 2012
For a limited time, Creative Memories is offering a large selection of its albums for 20 percent off. This offer kicks off the celebration of 25 years in business for Creative Memories, a pioneer of the modern scrapbooking movement.
A few of the sale options over the next 25 days include classic scrapbook photo album coversets, PicFolio® Albums with slide-in photo pages, photo album pages, page protectors, StoryBook photo books and much more. Even You Create It Custom Albums are on sale for orders placed by 11:59 p.m. Central Time on Jan. 26. You Create It Custom Albums are have personalized front cover of albums, creating a unique book. Simply drag and drop one or more photos into a template, add any desired text and the project is ready to order.
Since albums are the heart of the company, it is fitting that Nancy O'Dell launches her Love Series by Creative Memories during this anniversary year. The Nancy O'Dell Love Series is a whimsically colorful set of products paying homage to timeless love. The series includes a unique scrapbook photo album coverset, a scrapbook kit, predesigned scrapbook album pages, digital kits, and a Simply Said book for sharing meaningful memories in less than an hour.
Now is a great time to buy photo albums to keep in stock for the rest of the year. A selection of Creative Memories' unique Quick Albums is also on sale. Quick Albums allow anyone to create memorable photo albums in just a few minutes. They are easy to use, with coordinating colors that create a beautiful scrapbook to keep for yourself or to give as a gift.
Savings like those offered during the 25 days of saving sale will continue throughout the year. Make sure to check http://www.creativememories.com or the Facebook page at http://www.facebook.com/creativememoriesofficalpage for exciting, celebratory sales all year long!
Join the Club, get the rewards you deserve
The Creative Memories Rewards Club brings you the scrapbooking products you love and the rewards you deserve. Each retail purchase earns Club Credit to spend on your next purchase, so saving money is fun and easy. For an annual fee of $39, Club members receive an immediate $10 Club Credit during enrollment plus 15 percent Club Credit earned on the retail amount of each order.
Where there's hope, there's action
Join the Hope In Action 365 Project, where you commit to celebrating life by taking a photo a day. Become part of a grassroots effort to encourage everyone to experience the affirmation that photos and words can provide. Working together, we can raise and inspire the next generation of happy, healthy, confident kids. Become an agent of hope today!
About Creative Memories
Creative Memories pioneered modern scrapbooking 25 years ago and is a leader in the $2 billion scrapbooking segment of the craft industry. Based in St. Cloud, Minn., Creative Memories markets its photo-safe albums, papers, tools, pens, digital photo books and organization software through 40,000 independent sales Consultants worldwide. The company is well known for its quality and innovation, having won a variety of design and readers' choice awards in recent years. Learn more about the company and ways to celebrate memories at creativememories.com.
###