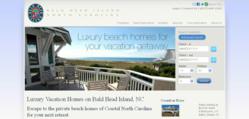 I have been extremely satisfied with the response we have received from our newly launched website showcasing our top rated rental homes." Trisha Howarth, Hospitality Sales and Marketing Director Bald Head Island Limited
Bald Head Island, NC (PRWEB) January 06, 2012
Bald Head Island Limited has announced the launch of a its property-focused website for Bald Head Island's luxury vacation homes. The Vacation Storebuilder-powered website focuses on showcasing Bald Head Island's premier vacation rental homes, increasing online revenue for property owners and providing luxury accommodations for the growing number of guests seeking private vacation rentals on the Atlantic Coast.
Bald Head Island's vacation homes sit on a perfectly situated, car-free island off the North Carolina coast with ferry-only access. Now with the Vacation Storebuilder powered site, Bald Head Island Limited can showcase the individuality, private appeal and true luxury found in these unique vacation homes. The site seamlessly integrates with PropertyPlus, its property management software to provide real-time online booking to guests.
Trisha Howarth, Hospitality Sales and Marketing Director for Bald Head Island Limited, said, "In response to a growing number of clients of discerning tastes and homeowner's request to capture a wider internet audience, we looked to Vacation Storebuilder for a solution. I have been extremely satisfied with their level of service and response we have received from our newly launched website showcasing our top rated rental homes."
Amy Mutual, Director Sales and Marketing for Vacation Storebuilder said, "Our goal in working for Bald Head Island Ltd was to create a site with secure online booking capabilities which spotlights its top-tier vacation homes to increase rental revenue for homeowners by targeting a new group of vacationers."
Vacation Storebuilder provides vacation rental property managers the ability to launch websites complete with easy content management, online booking, owner management, CRM functionality, reporting and a robust package of marketing tools. The platform allows vacation providers to showcase their properties with rich content, make inventory available at optimal rental rates, and help drive traffic to the site.
About Bald Head Island Limited
Bald Head Island is a second home and vacation island located just off the coast of Southeastern, NC. With no bridge connecting the island to the mainland, visitors take a 20-minute ferry ride across the Cape Fear. Once on island, the favored method of transport is electric cart, bicycle, or walking. Of the island's 12,000 acres, 10,000 have been permanently preserved and will never be developed. To learn more about Bald Head Island, visit our website at http://www.baldheadisland.com.
Bald Head Island Limited Media Contact
Lauren Frye
910-256-3742
About Vacation Storebuilder / Vibes Interactive
Vacation Storebuilder (VSB), a division of Vibes Interactive, launched in 2010 and is SaaS platform which enables vacation rental providers to quickly build and manage vacation rental websites. Our turnkey solutions provide robust websites which showcase properties, drive traffic, increase conversion, and manage membership and ownership. For more information visit http://www.VacationStorebuilder.com.
Vacation Storebuilder Media Contact:
Amy Mutual
847-513-9571
###