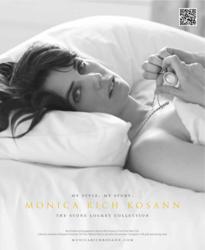 The MRKSTYLE name more accurately represents the current and future range of products that allow women to return to our brand and find the jewelry styles that tell their own personal stories. -Monica Rich Kosann
New York, NY (PRWEB) January 12, 2012
Monica Rich Kosann, a fine jewelry and home accessory brand with a shop at Bergdorf Goodman in New York and a distribution that includes the finest Jewelers and specialty stores, launched this week a redesigned update to its e-commerce site now called shop.mrkstyle.com. The new site is coupled with the brands' online magazine http://www.mrkstyle.com that includes regular lifestyle features related to fashion, arts, food, and travel and explores these ideas from the unique perspective of how they bring a timeless heirloom quality to our lives.
The online magazine MRKSTYLE expands on the themes that Monica Rich Kosann has explored in a number of media venues that include appearances on The Today Show, Open House NYC and Martha Stewart Living. Her newest book, Living with What You Love, which touches on these same themes was published by Random House in 2010.
Known for their photo locket necklaces, charm bracelets, and home accessories, Monica Rich Kosann is a brand that helps customers capture and celebrate their most cherished moments, memories and personal stories while creating a unique sense of their own individual style. The newly launched e-commerce platform shop.mrkstyle.com includes many new enhanced features to improve the online shopping experience for customers, and features the full range of Monica's collections including the recently launched PLANET COLLECTION and POCKETWATCH KEY Collection.
The e-commerce site was formerly known as shop.fineartoffamily.com. As Monica stated about the transition, "Our jewelry collection has grown from the simple locket to a full line offering. The MRKSTYLE name more accurately represents the current and future range of products that allow women to return to our brand and find the jewelry styles that tell their own personal stories."
About Monica Rich Kosann:
Monica Rich Kosann began her career a fine art portrait photographer who - inspired by vintage lockets, cigarette cases and powder compacts she collected and used to house her clients photographs - created a jewelry and home collection now carried by over 100 fine jewelers and specialty stores. She has been featured in numerous media including Town & Country, Vogue, Harpers Bazaar, Open House NYC and The Today Show for her collections and her ideas on how women and families create and live with their precious memories. The Brand's main web site is http://www.monicarichkosann.com
About : MRKStyle.com
shop.mrkstyle.com is an e-commerce site that offers the full collection of jewelry styles in sterling silver and 18K gold by Monica Rich Kosann. The site is coupled with an e-magazine, MRKStyle.com that continues to explore the underlying themes of the brand. It examines how people relate to Art, Family, Fashion, Food, Film and Travel—essentially life's various, everyday obsessions— through a collector's lens and reflects on how we all live with the things we love.
###