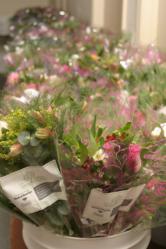 The Hospice Spring Bouquet sale is the largest community-wide fund raising event for Hospice Buffalo.
Sign your company or school up by Jan. 17th.
(PRWEB) January 05, 2012
Area companies and schools are invited to participate in the 26th Annual Hospice Buffalo Spring Bouquet Sale™, presented by First Niagara, for the event's pre-sale phase held during January and February. Participants simply assign a coordinator in an office who takes care of ordering bouquets with Hospice Buffalo. A free display bouquet and kit is provided to each company/school coordinator. Coordinators are eligible to win a Flip Video camcorder by attending a special breakfast on Jan. 17 with WGRZ-TV's Jodi Johnston.
Each gorgeous bouquet of fresh flowers includes roses, carnations, other fresh flowers and greens. The bouquets can be pre-ordered for $8 each – and are sure to put the feeling of spring in the air! A special over-sized tribute bouquet is also available to pre-order for $30. For every tribute bouquet ordered, a spring bouquet will be given to a current Hospice Buffalo patient.
Founded by the Professional Florists of Western New York, the Hospice Buffalo Spring Bouquet Sale™ is the largest fundraiser for the Hospice Foundation.
Over 500 community volunteers assist with the sale. Media Sponsors include WGRZ-TV Country 106.5 WYRK , Joy 96.1, and Lamar Advertising. For more information on volunteering, signing up your company or school, call the Hospice Foundation at (716) 686-8090 or visit on-line at http://www.hospicebuffalo.com.
Proceeds from the Spring Bouquet Sale benefit the Hospice Foundation, supporting Hospice Buffalo, the Hospice Buffalo House at Mitchell Campus, the St. John Baptist/Hospice Buffalo House, Essential Care for Children, and the Life Transitions Center. All are part of The Center for Hospice & Palliative Care, dedicated to the care and support of individuals with a serious or end of life illness.
# # #