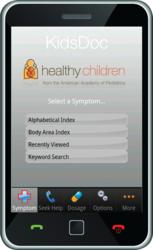 "Many parents have trouble deciding whether or not to call the pediatrician when their child is sick. This app will help guide them to the right decision quickly and easily," says Jennifer Shu, MD, FAAP, Medical Editor, HealthyChildren.org.
Chicago, IL (PRWEB) January 10, 2012
The popular KidsDoc Symptom Checker app from HealthyChildren.org (the official American Academy of Pediatrics Web site for parents) has helped thousands of iPhone users evaluate their child's symptoms. Now Android users can have the same great tool.
Parents provide their child's symptoms and receive up-to-date advice about how to treat minor illnesses at home, or when to call the doctor immediately. The app is based on the clinical protocols used by pediatricians and nurses in 10,000 practices and 400 nurse advice call centers in the U.S. and Canada. These protocols have been tested for 15 years on more than 150 million phone calls.
Each symptom care guide includes a decision chart to help determine the severity of the illness and how to manage it. The symptom checker also includes pediatric dosage tables by weight for common over-the-counter medications, images to help identify rashes, stings and bites, and first aid illustrations. Immediate connections are available to 911, your pediatrician or a nearby emergency department.
The Android and iPhone apps are available for $1.99. Visit HealthyChildren.org/KidsDoc for more information and links to download the apps.
Parents can test-drive the tool by using the free, online version available at HealthyChildren.org/Symptom-Checker.
About HealthyChildren.org: Developed by American Academy of Pediatrics and backed by the organization's 60,000 member pediatricians, this award-winning site offers trustworthy, up-to-the-minute health advice and guidance for parents and caregivers.
Registered users enjoy a customized home page that features articles geared to the ages of their children. The site also offers a Find-a-Pediatrician service, Hot Topics news coverage, an Ask the Pediatrician tool, and more than 3,000 articles on children's health.
Since the launch of HealthyChildren.org in December 2009, nearly 5 million visitors have viewed more than 19 million pages of children's health and safety information. To learn more, visit HealthyChildren.org.
###