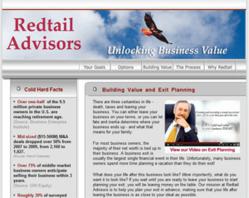 It's never too early to start planning for a business transition
Temecula, California (PRWEB) January 11, 2012
According to a New York Times article published last year, millions of baby boomers are entering retirement age - and many of them have the majority of their net worth tied up in their privately owned business. How can exit planning transfer this wealth from a non-liquid asset into a retirement portfolio?
Redtail Advisors, a business consulting and exit planning advisory, has released a video designed to help business owners begin to consider their exit planning options.
According to Jim Oliver, a principal of the company and former Fortune 100 CFO, "a large majority of private business owners have done a great job of building their company and enjoy a wonderful lifestyle. Creating and executing a sound business succession plan can help those owners build more value in their business today while generating a higher return for them on their eventual exit."
While a study conducted in 2008 showed that 96% of business owners believed that an exit plan was a critical business component, less than 87% have any written plan for what will probably be the largest single financial event of their life.
"It's never too early to start planning your transition from the company you have built and love," stated Mr. Oliver. "You don't want to leave this to chance. It's an opportunity to find out what your company is worth today and how you can make it worth what it needs to be to support your retirement plans - whenever that day comes. Having an objective team comprised of specialists in the various fields of law, tax, risk, wealth preservation and business processes will enable you to see a great return on this type of investment, both now and when you do decide to retire."
About Redtail Advisors
Redtail Advisors is a business consulting and exit planning advisory that helps private companies build value and prepare for ownership transitions. The company utilizes a proprietary technology, Value Creation Insights, to provide deep insight into the business operations and processes of their clients, and works with management to produce an execution roadmap that improves business value and paves the way to a smooth transition. More information can be found at http://www.redtailadvisors.com.
###