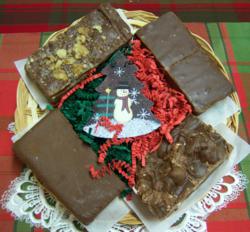 My favorite well that chocolate peanut butter or is it maple, no maybe its mint chocolate swirl. With so many to choose from I just can't pick one.
Greentown, PA (PRWEB) January 07, 2012
The 84 Country Store the largest country store in northeast PA located in Greentown, PA just minutes off I84 at exit 20 now has fresh made fudge. The Store began to make fresh fudge a few months ago and it has been a fudge destination ever since.
Everyone that enters the 84 Country Store clamors to get to the fudge counter for a free sample. That's right a free sample. And not just chocolate or vanilla try any flavor. And they have some wonderful flavors including seasonal favorites like pumpkin pie, candy cane, and eggnog. As well as all year round favorites like chocolate, rocky road, and chocolate walnut. The store even has some unique flavors like red velvet cake, salted nut roll, and even a chocolate chili pepper for a little spice to life. Of course the kids always love M&M and the fudge covered marshmallow pops that are created in the kitchen and the diabetics will love the fresh made sucrose free fudge."My favorite well that chocolate peanut butter or is it maple, no maybe its mint chocolate swirl. With so many to choose from just can't pick one" said Brenda Hopkins long time employee of the store.
The 84 Country Store sells hundreds of pounds a week at $13.95 for a pound and a half pound for free with every pound they sell keeps the fudge makers very busy in the kitchen. " The hardest part for the customers is choosing the kind of fudge they want to take home, since they can choose up to six flavors in a pound and a half " said Brenda
All the fudge is made fresh with real butter three to four times a week right in the store so it is always guaranteed fresh. Fudge will last ninety days without refrigeration but it won't last that long in the house sometimes it doesn't even make it out of the store before its being nibbled on, don't worry they will give a little spoon to eat it in the car.
What's Available?
Fudge Gifts maybe the sweetest thing we sell but we have a vast array of other quality merchandise as well as Indoor Gem Mining, complete with an animated miner and chickens. They also have home décor, rugs, linens, and a huge toy section, marble run and checkers that the kids can play with. Local artists & crafters have many items for sale in the store, many unique only to this store fresh made dog treats decorated seasonally of course. Of course no country store would be complete without a great selection of penny candy, coke & John Deere items as well as great items for your lake house or cabin including deer and bear items as well as hunting and fishing décor. Also they offer Amish jam and jelly tasting every weekend making this a wonderful destination but plan sometime to walk around with so much to look at get lost for hours. They also have animals for the kids to look at, a tepee to explore, an antique house full of items for sale, and holiday fudge gift baskets. The 84 Country store also has their own line of candles. They sell cards, baking mixes, hot sauce, ornaments and engraved items such as knives, Zippos, dog and pet tags. As well as having a huge selection of soap, bath salts, and lotions.
The store accepts Visa, MasterCard, And American Express & Discover as well as local PA checks.
84 country Store is located at 101 Creamery Road Greentown, PA 18426 or visit our second location in the Hawley Silk Mill 8 Silk Mill Drive Hawley, PA 18428. Located down the street from Lake Wallenpaupack
Come by today and tell them the cow sent ya'.
###