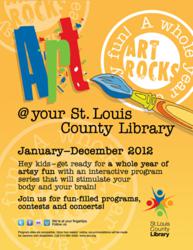 (PRWEB) January 06, 2012
The third year of Art @ Your Library will bring an array of opportunities for kids and teens to learn more about the arts at St. Louis County Library. All 20 SLCL branches will feature interactive programming around a different creative topic every other month. Beginning in January, singers, dancers, storytellers and instrumentalists will perform, giving participants a chance to learn from some of the best new talent in the area.
Among the presenters will be the Paul Mesner Puppets, Monkey Tales Theatre, Metro Theater Company, Stages St. Louis, COCA, songwriter Dino O'Dell, DaySpring School of the Arts, authors Serena McCarthy and Angela Sage Larsen, and the Hui Hula 'O Punahele Hula Halau & Polynesian Dance Company.
Of special note is a workshop by the Metro Theater Company to introduce storytelling techniques to teachers and caregivers. This 45-minute program will help adults learn simple, expressive techniques to engage children and capture their attention and imagination. The workshop will be presented on the following dates at the following branches:
Saturday, January 14, 10:00 a.m. at the Samuel C. Sachs Branch, 16400 Burkhardt Pl., Chesterfield, MO 63017
Saturday, February 4, 10:30 a.m. at the Lewis and Clark Branch, 9909 Lewis-Clark Blvd., St. Louis, MO 63136
Saturday, February 11, 10:00 a.m. at the Grand Glaize Branch, 1010 Meramec Station Rd., Manchester, MO 63021
Saturday, February 25, 10:30 a.m. at the Natural Bridge Branch, 7606 Natural Bridge Rd., St. Louis, MO 63121.
To find other Art @ Your Library program please http://www.slcl.org/events or call 314 994-3300.
Program sites are accessible. Upon two weeks' notice, accommodations will be made for persons with disabilities. Contact St. Louis County Library by phone 314-994-3300, or visit http://www.slcl.org.
###