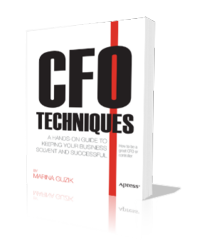 "Financial professionals support our employers by attending to a multitude of functions, wearing different hats, and juggling thirty balls at a time." - author and veteran CFO Marian Guzik
New York, NY (PRWEB) January 06, 2012
If small business is the backbone of the economy then according to author and veteran CFO Marina Guzik, "Financial professionals are the spinal cord inside those vertebrae. We carry our load and support our employers by attending to a multitude of functions, wearing different hats, and juggling thirty balls at a time." Guzik shares her insights in "CFO Techniques: A Hands-on Guide to Keeping Your Business Solvent and Successful," a new release from Apress Media.
As "CFO Techniques" shows, juggling many tasks requires a lot more these days than the ability to count beans and keep pencils sharp. As the business climate changes, small and midsize companies struggle harder than ever for survival, imposing even more demands on CFOs and controllers. There is no choice but to take on more functions and expand the span of command.
To help financial professionals hone their skill set, "CFO Techniques" covers advanced topics like treasury management, performance analytics, managing outside auditors, complying with intricate tax regulations, and segmental analysis. The book also covers things CFOs must now know well—like whether to fund an initiative with borrowed money or new capital, how to help choose IT hardware and services, how to advise the boss on starting a new venture, whether to hire (or outsource) for a function, how to insure risks facing the business, and even how to help devise corporate strategy. Topics are covered in a nonacademic, easy-to-read style with relevant cultural references and real-life examples.
Guzik's advice is based on practical knowledge and hands-on experience. "CFO Techniques" therefore provides a comprehensive guideline regarding the most important functions under any finance professional's control including the areas of expertise in which they must excel and how to achieve their best on-the-job performance.
Says Guzik, "This book is not for Fortune 500 CFOs with hundreds of subordinates to whom tasks can be delegated. This book is for those professionals in financial management—CFOs, controllers, treasurers, VPs, and directors of finance—who, like me, toil to ensure the commercial survival of small and midsize businesses."
To learn more about CFO Techniques: A Hands-on Guide to Keeping Your Business Solvent and Successful, visit http://www.apress.com/9781430237563

ISBN13: 978-1-4302-3756-3
380 pages
Publication Date: December 14, 2011
Available eBook Formats : EPUB, MOBI, PDF
Print Book Price : $29.99
eBook Price: $20.99
About Marina Guzik
Marina Guzik's career in finance and accounting spans 24 years, with the last 17 years in chief financial officer and controller positions in small and midsize companies. She has worked in both the public and private sectors, including manufacturing, global supply chain, e-commerce, professional services, asset management, and consulting. Ms. Guzik's functional expertise spans a broad range of tasks and duties, from international treasury to mergers and acquisitions, and everything in between. She holds several academic degrees, including a master's in business administration in accounting. She believes in the strength of fundamental knowledge and commercial acumen, which can be intelligently applied to any particular business model.
About Apress Media
Apress Media LLC is a technical and business publisher devoted to meeting the needs of IT professionals, software developers, programmers, and business leaders with more than 1,000 books in print and electronic formats. Apress provides high-quality, no-fluff content that helps serious technology professionals build a comprehensive pathway to career success. For more information about the innovative approach Apress takes to publishing, please visit http://www.apress.com.
# # #