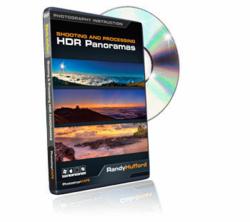 HDR allows me to capture, every detail, every color, texture and emotion...
Los Angeles, CA (PRWEB) January 11, 2012
PhotoshopCAFE.com, a leader in Photoshop and design training, and Software Cinema, a leader in Photographic training, announce the availability of Shooting and Processing HDR PANORAMAS, the latest release in their ever growing catalog of training videos. This collection of tutorials teaches photographers how to create stunning panoramas with an unparalleled range of tonality.
This  instructional video includes lessons on: selecting the right gear, finding the "no parallax" point of your camera, calibrating the Nodal Ninja, HDR Workflow, Tone Mapping and Photomatix Pro Batch Processing, and more.
From Randy - "I am in awe of the world around me, and HDR allows me to capture, every detail, every color, texture and emotion. My passion is creating art that shows the world's alluring beauty. When you add the ability of High Dynamic Range to a full sweeping panorama, you have a recipe for breathtaking photos that can stir the heart and soul. I welcome everyone to join me on this journey through the technical to the spiritual side of photography."
Pricing and Availability
Shooting and Processing HDR PANORAMAS is immediately available can be purchased as a DVD ROM or a digital download directly from PhotoshopCAFE.com at http://www.photoshopcafe.com/video  for $49.99
About Randy Hufford
Randy is a Maui based artist and instructor. His great enthusiasm for photography is matched by a deep knowledge of the entire photographic process. From creating, printing, mounting and framing, Randy's keen eye and attention to detail make him one of the most informative instructors in the business.
Randy is passionate about creating and selling his fine art images in galleries throughout Hawaii and the world. He shares his vision by teaching his methods at the Institute of Visual Arts in Maui. http://www.ivamaui.com
He has earned his Master of Photography and Craftsman degrees with the Professional Photographers of America, is a Digital Print Master, Photographic Artist and has been recognized twice by Kodak, with the Kodak Photographic Excellence Award.
About PhotoshopCAFE.com  /  Software Cinema
PhotoshopCAFE .com is home to one of the world's most popular Photoshop resource sites, PhotoshopCAFE.com, which boasts over 30 million visitors. Founded by Colin Smith a recognized digital imaging expert, author and instructor, PhotoshopCAFE produces professional level training materials for photographers, designers, videographers  and digital illustrators  In 2010 PhotoshopCAFE acquired Software Cinema a leader in the photographic training industry, to further its goal of providing professional level training to the imaging industry.
###