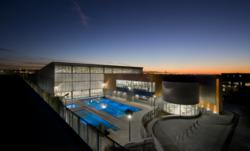 Phoenix, AZ (PRWEB) January 07, 2012
The SpoFit is one of two centers in the U.S. that is specifically designed for individuals with disabilities, and the only center of its kind in the Western United States. It features two full-size sport courts, an indoor suspended track, rock climbing wall, fitness center/weight room, group fitness room and an aquatic center. The sport courts have both 10′ and 8′ hoops to allow youth to play more competitive basketball. The courts will also accommodate sit volleyball, power soccer, quad rugby and other team sports. The one-of-a-kind fitness center is located on the second floor. The spacious work-out center includes an accessible line of CYBEX weight-training and fitness equipment. The aquatic center contains a lap pool, therapy pool and spa. All three pools are accessible by chairlift. The lap pool and therapy pools also provide entry by elevator. The lap pool is designed with a lowered bench for transferring directly from a wheelchair to the water.
The SpoFit integrates comprehensive accessibility design solutions with state of the art engineering and innovative building systems. Special emphasis was placed on energy efficiency and "Green" assemblies and material promoting safety and the health and well-being of all occupants.
The Building high quality of design enhances the human experience of its end users and encourages individual and group participation.
###