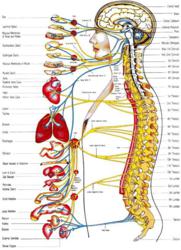 Chiropractic care is an effective method to support the nervous system and overall health for 2012.
San Francisco, California (PRWEB) January 06, 2012
The New Year is a good time to acknowledge past actions and develop new goals for personal development. Dr. Adam Jacobs of SF Custom Chiropractic encourages the San Francisco community to make the nervous system a priority as part of their new year's resolution. Chiropractic care is very beneficial in maintaining a healthy nervous system, which can help ease back pain and prevent injuries. This month, he is offering half off the price of the first exam and treatment for those who desire to make the step towards maintaining and improving their health.
The nervous system is composed of the peripheral and central nervous system. Both systems are interconnected to help the body respond appropriately to any emotional or physical stimulus. The central nervous system, which consists of the brain and the spinal cord, is responsible for coordinating and transmitting information throughout the body with specialized cells known as neurons, which are bunched together as nerves. Nerves help relay messages to the spinal cord and the brain about the health and function of every cell, tissue, organ, and system within the body. The spine, which consists of 24 vertebrae, is responsible for protecting these nerves. If misalignment occurs within the vertebrae, known as a subluxation, pressure is placed on the nerves. This pressure can limit normal spinal motion and functions throughout the whole body. This can lead to pain, an imbalance and a decrease in immune response.
Chiropractic adjustments can correct subluxations and relieve symptoms such as back pain, headaches and scoliosis. Adjustments are performed by applying precise force to the joint that is out of position so it can return to its normal position and proper function to ensure the nervous system is at its optimum level.
Patients who enter Dr. Jacobs' chiropractic clinic are treated with a variety of methods, such as Active Release Technique, surface EMG and laser therapy to treat injuries and maintain proper health. What separates SF Custom Chiropractic's holistic approach from other practices is the combination of traditional chiropractic approaches and new technologies to ensure the best possible care for each patient. SF Custom Chiropractic also offers deep tissue massage, which is highly effective in realigning muscles, restoring movement, and enhancing circulation to soft tissues.
This January is a great time to begin developing a healthy lifestyle with proper exercise and diet. Often times, it is hard to maintain resolutions throughout the entire year. It is important to develop realistic goals and an effective plan to achieve them. Under Dr. Jacobs' care, chiropractic treatment is an effective method to support and maintain the nervous system and overall health for 2012.
About SF Custom Chiropractic: SF Custom Chiropractic opened in January 2011. Head treating doctor, Dr. Adam Jacobs received his doctorate of chiropractic from Palmer College of Chiropractic West (best known for being the leader of sports chiropractic). He has a master's degree and a full body and long nerve entrapment certification in Active Release Technique.
###