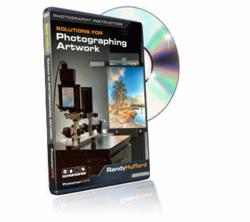 Understanding how artwork is properly replicated for digital use is essential
Los Angeles, CA (PRWEB) January 12, 2012
PhotoshopCAFE.com, a leader in Photoshop and design training, and Software Cinema, a leader in Photographic training, announce the availability of Solutions for Photographing Artwork, the latest release in their ever growing catalog of training videos. This collection of tutorials teaches photographers how to accurately photograph 2 dimensional artwork for replication.
This  instructional video includes lessons on Handling and hanging the art, lighting, using a Zig-Align to line up the camera, monitor calibration, using the Color Checker Passport, plus complete workflows for the Canon 5D Mark II, Hasselblad, and the BetterLight Scanning Back.
From Randy - "Correctly reproducing the exact color and texture of a painting in a photograph has always been a challenge. If you're an artist, framer, gallery owner or even a web designer, understanding the process of how artwork is properly replicated for digital use is knowledge that is essential to compete on the highest level."
Pricing and Availability
Solutions for Photographing Artwork is immediately available can be purchased as a DVD ROM or a digital download directly from PhotoshopCAFE.com at http://www.photoshopcafe.com/video  for $99.99
About Randy Hufford
Randy is a Maui based artist and instructor. His great enthusiasm for photography is matched by a deep knowledge of the entire photographic process. From creating, printing, mounting and framing, Randy's keen eye and attention to detail make him one of the most informative instructors in the business.
Randy is passionate about creating and selling his fine art images in galleries throughout Hawaii and the world. He shares his vision by teaching his methods at the Institute of Visual Arts in Maui. http://www.ivamaui.com
He has earned his Master of Photography and Craftsman degrees with the Professional Photographers of America, is a Digital Print Master, Photographic Artist and has been recognized twice by Kodak, with the Kodak Photographic Excellence Award.
About PhotoshopCAFE.com  /  Software Cinema
PhotoshopCAFE.com is home to one of the world's most popular Photoshop resource sites, PhotoshopCAFE.com, which boasts over 30 million visitors. Founded by Colin Smith a recognized digital imaging expert, author and instructor, PhotoshopCAFE produces professional level training materials for photographers, designers, videographers  and digital illustrators  In 2010 PhotoshopCAFE acquired Software Cinema a leader in the photographic training industry, to further its goal of providing professional level training to the imaging industry.
###