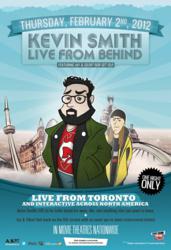 I can be like 'Hey man, I'm going to be on the screen soon, pop into a theater and check it out.' That's kind of magical," says Smith.
Los Angeles, CA (PRWEB) January 06, 2012
Following his highly popular one man show format, director/writer/podcaster Kevin Smith will discuss anything and everything when he takes over the big screen with Kevin Smith: Live From Behind Featuring "Jay and Silent Bob Get Old", a one-night-only in-theater event on Thursday, February 2 at 9:30 p.m. ET / 8:30 p. m. CT / 7:30 p.m. MT / 6:30 p.m. PT / 9:30 p.m. Alaska & Hawaii. Broadcast to select movie theaters nationwide live from the Scotiabank Theatre in Toronto, Ontario, this special three-hour event will begin with Smith and frequent co-star and long-time friend, Jason "Jay" Mewes, hosting their highly rated podcast, "Jay and Silent Bob Get Old." The evening will then switch gears as Smith takes the stage to tackle a wide variety of topics and issues during a live interactive, fan-generated Q&A with theater audiences across the country. For the first time, fans will have the opportunity to drive the conversation as they submit their questions and interact simultaneously with Smith live via social media networks throughout his unique "tell it like it is" stage show.
Presented by NCM Fathom and AK27 Productions, tickets for Kevin Smith: Live From Behind Featuring "Jay and Silent Bob Get Old" are available at participating theater box offices and online at http://www.FathomEvents.com and http://www.ak27productions.com. For a complete list of theater locations and prices, visit the NCM Fathom website (theaters and participants are subject to change). The event will be broadcast to more than 300 select movie theaters across the country through NCM's exclusive Digital Broadcast Network.
"Doing something like this means you can get the event into a theater in a very small town. We may have never been to that small town, but we can be with this Q&A event," said Smith. "I can be like 'Hey man, I'm going to be on the screen soon, pop into a theater and check it out.' That's kind of magical. The very ability to do that on a wider level now, instead of just doing it one night only in this city, in this theater, … I look forward to it!"
Smith is a screenwriter, actor, film producer and director, as well as a popular comic book writer, author, comedian/raconteur, and Internet radio personality best recognized by viewers as Silent Bob. He is most famous for his cult film catalogue including Clerks, Mallrats,Chasing Amy, Dogma, Jay and Silent Bob Strike Back, Jersey Girl, Clerks II, Zack and Miri Make a Porno, and his newest film Red State, which premiered at the 2011 Sundance Film Festival. Smith also sports three DVD releases of his various college Q&A's (An Evening With Kevin Smith, An Evening With Kevin Smith 2: Evening Harder, A Threevening with Kevin Smith, as well as an EPIX Original Q&A special Kevin Smith: Too Fat For 40). Smith has also published two books full of essays and blog postings, Silent Bob Speaks and the New York Times Best Selling, My Boring Ass Life, as well as Shootin' the Sh*t with KevinSmith – a collection of the best material from SModcast, Smith and producer Scott Mosier's weekly podcast at http://www.smodcast.com.
"Since the release of his debut film in 1994, Kevin Smith has been a veritable force in the entertainment industry," said Dan Diamond, senior vice president of NCM Fathom. "Fans won't want to miss this unique stage show, as well as their chance to interact with him live from the comfort of their local theater."
About National CineMedia (NCM)
NCM operates NCM Media Networks, a leading integrated media company reaching U.S. consumers in movie theaters, online and through mobile technology. The NCM Cinema Network and NCM Fathom present cinema advertising and events across the nation's largest digital in-theater network, comprised of theaters owned by AMC Entertainment Inc., Cinemark Holdings, Inc. (NYSE: CNK), Regal Entertainment Group (NYSE: RGC) and other leading regional theater circuits. NCM's theater advertising network covers 176 Designated Market Areas® (49 of the top 50) and includes over 18,300 screens (17,300 digital). During 2010, approximately 700 million patrons attended movies shown in theaters in which NCM currently has exclusive, cinema advertising agreements in place. The NCM Fathom Events broadcast network is comprised of nearly 700 locations in 165 Designated Market Areas® (all of the top 50). The NCM Interactive Network offers 360-degree integrated marketing opportunities in combination with cinema, encompassing 42 entertainment-related websites, online widgets and mobile applications. National CineMedia, Inc. (NASDAQ: NCMI) owns a 48.7% interest in and is the managing member of National CineMedia LLC. For more information, visit http://www.ncm.com.
About AK27 Productions
Toronto-based AK27 Productions is the combined effort of Adam Kreeft, of Kreeft Booking and Katie Clark formerly of Underground Operations. Formed in spring 2011, AK27 specializes in live events and production on the ground and online. For more information, visit http://www.ak27productions.com.
###