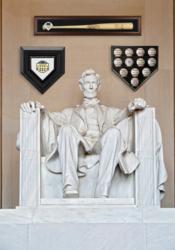 In a social networking world, personal display cases let people share their Likes, passions and lifetime achievements.
Burbank, CA (PRWEB) January 07, 2012
The explosion in social media and personal networking has unlocked and stimulated people's innate desire to share their experiences and draw attention to their passions and achievements. In response to this cultural trend, Legacy Display Cases has launched a new website – http://www.LegacyDisplayCases.com – featuring personal display cases that showcase the prized possessions of anyone with strong Likes.
"We live in a social networking world where people are keenly interested in learning more about each other and sharing their life experiences," said Entrepreneur Michael Knab, president of Legacy Display Cases. "More and more people are ready to customize their surroundings and put what is of personal importance in front of the world," he noted.
Display cases make it easy for anyone to showcase their prized possessions while at the same time adding socialization and entertainment to life. Sports fans want their friends to see the autographed football from the big game. Military heroes and other achievers rightfully deserve an audience for their medals and awards. Avid collectors usually have enough items to curate their own mini-museums.
The new Legacy website features a full range of display cases to enliven any home or workspace. The online store sells and sources display cases for:

Military awards & medals
Sports memorabilia
Diecast model cars & motorcycles
Collector coins
Pennants & flags
The majority of the display cases available on http://www.LegacyDisplayCases.com are not sold in retail stores and are made in American by small businesses. Cases range from wood and glass display cases that make their own décor statement, to sleek, contemporary acrylic cases. The more elaborate ones are crafted in limited runs and involve a great deal of handwork and finishing.
Knab notes that more and more people are focused on preservation and mindful of their heritage. "The present is more lively decorated with memorabilia of the past," he says. Display cases protect prized possessions as well as show them off.
The website is also expected to become a resource to help customers choose the best display cases and provide information to assist collectors in designing a makeover of a room, office or special area dedicated to collections. A blog on the website, "An American's Guide to Display Cases" will serve as a foundation for new approaches and creativity.
Knab points out that "new technologies in display case design and construction are already expanding the options available to a collector. Ultimately, it is our goal to establish http://www.LegacyDisplayCases.com as the online community resource in today's lifestylization of collectables," he said.
About Legacy Display Cases
Legacy Display Cases is the latest store from Gennera Knab & Company. Since 1996, Gennera Knab & Company has created and managed four stores including Legacy Motors, an online retailer who pioneered the first online community of collectors. In the past decade, the enterprise has carefully expanded beyond its base of model collectors. Legacy Art Gallery offers prints and posters of automotive and American subjects. Legacy Landings is a blog and online store spotlighting the latest innovative products.
###