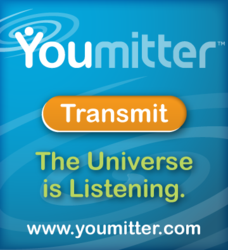 Youmitter is very interesting and is likely to grow quickly to fit a social networking opportunity. This may be the closest I have been to a ground floor (launch) opportunity which should be huge.
Alpharetta, GA (PRWEB) January 06, 2012
Youmitter™- Transmit. The Universe is Listening
Youmitter™ (http://www.youmitter.com) is a new social networking site now broadcasting the thoughts, wishes, confessions, and memorials into the cosmos. "Putting it out into the Universe" is now a service available to everyone, everywhere.
Some key features of Youmitter are:
· Completely anonymous micro-blogging
· Transmit your thoughts into the Universe
· Affirmations from fellow users amplify the energy placed into posts
· Wish Granting, connecting users with resources to make wishes come true
Youmitter creates a medium for anyone to express their deepest emotions in a completely anonymous way, while creating the ability for like-minded individuals to affirm the sentiment, increasing the chances that the expression will manifest into reality. Youmitter™ also has a "Wish Granting" capability, which allows benefactors to connect with wishes that speak to them.
Several aspects of this new platform differentiate it from other social media sites used today.
First, is the core notion of "wishing well" -like functionality. This is a medium of expression that once had a place in print media, but today is vanishing. Youmitter™ restores this medium of expression through cyberspace.
Another uniqueness is that user activity is completely anonymous. A user may post content without need for any personal identification. Even when transmissions are made non-anonymously, the user need not specify a real name or username. Complete confidentiality and anonymity is assured, raising appeal and increasing the usability of the application enabling spontaneity and assuring confidentiality.
Thirdly, an "affirmation" feature is included which allows users to affirm another user's intent, thus putting the power of their own intention behind the message.
Fourthly is a feature which allows "granting of wishes," connecting a problem solver with a user in need. This enables someone, who notices a person in need, and who is able to offer some assistance to that user, to make contact through secure and anonymous messaging. A "wish grantor" will receive recognition on the site and join a community of benefactors.
The reader is encouraged to visit http://www.youmitter.com for more information and to participate in this community. Youmitter is free to register, interact with other users and transmit daily.
Youmitter
http://www.youmitter.com
Youmitter is owned and operated by Green Cirlce, LLC.
Contact:
Bob Landstrom
info(at)youmitter(dot)com
3000 Old Alabama Road
119-312
Alpharetta, GA 30022
###