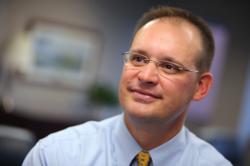 "Small business owners need to 'hurry up' and figure out whether they are eligible for tax credits made available right away to qualifying companies. The "wait" element has them shifting their collective gaze from Washington to their state capitals, where
Harrisburg, Pa. (PRWEB) January 06, 2012
Conrad Siegel Actuaries, providing comprehensive employee benefits services, today announced that Consulting Actuary Robert Glus is the author of a column in The Washington Post examining the impact of health care reform.
Writing as part of a panel of experts addressing "How Will Health Care Reform Impact You?" Glus explains that healthcare reform has placed small business owners in a "hurry up and wait" mode that likely won't be resolved until 2014.
Glus, who chairs Conrad Siegel's health and welfare committee, writes, "Small business owners need to 'hurry up' and figure out whether they are eligible for tax credits made available right away to qualifying companies. The "wait" element has them shifting their collective gaze from Washington to their state capitals, where the structure of the state-level health care exchanges — the real core of the new system — will be determined."
Glus believes that the new exchanges are the "linchpin" of the system and when they roll out in 2014, the marketplace for insurance will undergo significant change. "Individuals and small businesses will be able to shop for plans that provide comparable benefit levels, require guaranteed issue regardless of health status, prohibit annual or lifetime limits on essential benefits and limit premium variations by age."
While the specific impact to small business owners is not yet known, Glus advises owners to evaluate current tax credit programs, while keeping an eye on the exchanges as they become available. Ultimately, he believes, the impact of healthcare legislation is unlikely to match the "extreme rhetoric" of it supporters or detractors. The commentary appeared online Dec. 16, 2011 in The Washington Post's On Small Business section.
About Conrad Siegel
Conrad Siegel Actuaries is one of the largest and most respected employee benefits firms in Pennsylvania. Recognized as both an industry leader and a trusted advisor, the firm stands apart by offering unbiased, fee-based services backed by careful attention to detail. Conrad Siegel partners with its clients to offer a comprehensive source for all employee benefit needs. For more information, please visit http://www.conradsiegel.com.
###