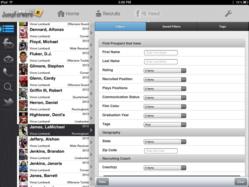 The new JumpForward iPad application will give us unfiltered access to all of our recruiting information from any location with just a touch of a screen
Chicago, IL (PRWEB) January 06, 2012
JumpForward, LLC (http://www.jumpforward.com), the leading recruiting and compliance solution provider for collegiate athletic departments, is unveiling its next generation, innovative iPad Application at the 2012 American Football Coaches Association (AFCA) Convention in San Antonio, TX. JumpForward led the native mobile phone revolution and is now changing the college recruiting landscape again by delivering its next generation native iPad application for college coaches. General availability will be Q1 2012.
From the JumpForward iPad App, college coaches can view and update prospect profile information, place and track prospect phone calls, send and track Facebook and Twitter messages, and send and track e-mail communications. With JumpForward's recent cooperative product integration with XOS Digital, online video will also be available for review and evaluation of prospects using the JumpForward iPad App.
"We enjoy working with coaches to develop products that will dramatically improve their recruiting experience. Coaches are more mobile than they used to be, they use Facebook and Twitter, they view tons of video, and they want to be able to do all of this from one place" said Jodi Murphy, Vice President of Coach and Recruiting Solutions at JumpForward. "This technology is a game changer because all the information a coach needs is at his fingertips from the most popular tablet application on the market."
"JumpForward has been a great choice for our football program. The software has proven to be very easy to learn and use for our staff. JumpForward provides too many features to list but they are so efficient it makes our recruiting workload much easier to manage", said Andy Vaughn, Coordinator of Player Personnel for Middle Tennessee Football. "The new JumpForward iPad application will give us unfiltered access to all of our recruiting information from any location with just a touch of a screen."
About JumpForward, LLC:
Founded in 2007, JumpForward is the leading provider of Recruiting and Compliance Solutions for collegiate athletic departments. With their cutting edge technology, they have revolutionized the market space in recruiting technology. JumpForward also provides software solutions for several departments within a collegiate athletic department including: coaching staffs, compliance staffs, academic services, registrars, financial aid, development, marketing, admissions, equipment rooms, and ticket offices. By bringing all of these departments onto a single technology platform, JumpForward allows institutions to strengthen internal controls, communicate more effectively both internally and externally, and reduce the risk associated with costly violations. For more information about JumpForward, please contact them by email at sales(at)jumpforward(dot)com or by phone at 866-499-0564.
###