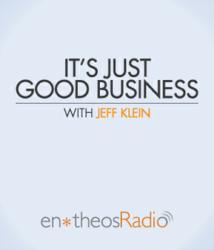 San Rafael, CA (PRWEB) January 06, 2012
Working for Good and en*theos Radio announce the launch of It's Just Good Business, a weekly hour-long radio program with award-winning author Jeff Klein and special guests – pioneering servant leaders and inspiring innovators – exploring the power of Conscious Capitalism® and the practice of Working for Good®.
It's Just Good Business launches Friday January 6, 2012 at 11:00 am Pacific Time and will be aired live every Friday. The program will subsequently be available for on-demand streaming.
"We are honored to launch en*theos Radio with Jeff Klein and It's Just Good Business," comments en*theos founder & CEO Brian Johnson. "As a pioneer in the Conscious Capitalism Movement, author of Working for Good and deep practitioner of what he teaches, Jeff brings decades of practical experience and deep relationships to the program, and an amazing roster of inspiring guests."
It's Just Good Business will provide listeners with inspiring stories, practical insights and best practices to deepen their understanding of how to create more resilient, sustainable and life-enhancing businesses while bringing their full humanity to work.
Initial Guests include:
> January 6: Brian Johnson, Founder & CEO, en*theos Academy and en*theos Radio, CEO & Philosopher, Philosopher's Notes
> January 13: Lawrence Koh, Founder & President, International Diversified Products
> January 20: Howard Behar, former President, Starbucks, author, It's Not About the Coffee
> January 27: Doug Levy, CEO, imc2
> February 3: David Allen, author, Getting Things Done and Making It All Work, CEO, The David Allen Company
> February 10: Tom Gardner, CEO, The Motley Fool
> February 17: Chip Conley, founder, Joie de Vivre Hospitality, author, Peak and Emotional Equations
> February 24: Walter Robb, co-CEO, Whole Foods Market
For more information and to listen, visit: http://www.entheosradio.com/shows/Its-Just-Good-Business
About Jeff Klein
As CEO of Working for Good, Jeff Klein activates, produces and facilitates mission-based, Stakeholder Engagement Marketing™ campaigns and Conscious Culture development programs. He authored the award-winning book, Working for Good: Making a Difference While Making a Living.
Jeff is a trustee and member of the Executive Committee of Conscious Capitalism, Inc. and is co-producing the 6th Annual Conscious Capitalism CEO Summit, October 9 – 11, 2012, in Austin, Texas. He is producing Being Human 2012: The Science of Human Experience, on March 24, 2012 at the Palace of Fine Arts Theater in San Francisco. In the fall of 2011, Jeff produced a 6-week tele-course with the en*theos Academy entitled It's Just Good Business, which is available for downloading at http://www.entheosacademy.com/course/Its-Just-Good-Business
Jeff enjoys surfing, Brazilian Jiu Jitsu, ChiRunning and moving in general. He is an active father of a 13-year daughter. For more information, visit WorkingforGood.com
###