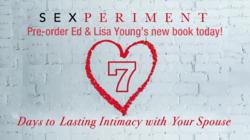 It's time to bring God back in the bed and put the bed back in the church. That's what this bed-in is all about.
Grapevine, TX (PRWEB) January 06, 2012
Sleeping in is one thing. Staying in bed for 24 hours is another. But spending 24 hours in bed, on the roof of your church is another thing altogether. But that's exactly what Ed and Lisa Young, pastors of Fellowship Church, are doing. Beginning at 6 am Friday, January 13 and ending at 6 am Saturday, January 14, the Youngs will be in bed.
The catalyst of the "bed-in," as they are deeming it, is the release of their new book, Sexperiment: 7 Days to Lasting Intimacy with Your Spouse.
The book, releasing January 10, is a call for married couples to have sex for seven straight days, with the promise that the amazing results will last far beyond the week.
During the upcoming "bed-in," which will stream live on the book's website http://www.thesexperiment.com, Ed and Lisa will engage the audience through a number of interactive methods.
Throughout the 24 hour period, Ed and Lisa will be doing live interviews, both in person and via Skype. They will be answering relationship questions live via Twitter(the hashtag is #sexperiment) and Facebook. And some of Young's most popular teachings about sex and relationships will be highlighted.
This event is intentionally designed to help couples understand the power and potential of a strong marriage.
Ed and Lisa have spent decades speaking about relationships and have helped countless couples reach the highest level of intimacy. Happily married for nearly thirty years, the Youngs have seen firsthand the power of a healthy sex life in marriage and believe it is time to "bring God back into the bed."
Sexperiment serves as a catalyst for people to begin a dialogue about sex and a challenge to make sex a priority in the marriage bed so couples will remain united outside the bed.
"Tragically, culture has kicked the bed out of church and God out of the bed," Ed says. "It's time to bring God back in the bed and put the bed back in the church. That's what this bed-in is all about."
In Sexperiment, Ed and Lisa interject biblical teaching that points to God's purpose for sex in marriage—not only personal pleasure, but connection to each other and Him. And Ed teaches, "God thought up sex. It was his idea. And it's not just about procreation; it's about recreation and enjoyment. The bed-in is about empowering couples to experience the relationship and recreation that God has for them every day of their lives!"
Ed and Lisa Young are the founding pastors of Fellowship Church (http://www.FellowshipChurch.com), which includes 5 locations in Dallas/Fort Worth, Texas and Miami, Florida. Fellowship Church, founded in 1990, is one of the most attended churches in America and continues to set an example for a new generation of churches.
More information about Ed, Lisa and their many ministries can be found at http://www.EdYoung.com.
More information about the book, Sexperiment, can be found at http://www.thesexperiment.com.
About Ed Young
Ed Young is the founding pastor of Fellowship Church, one of the most attended churches in North America. He is an author and speaker noted for communicating biblical truth in creative and memorable ways. He has a passion for making the complex, simple as he speaks truth to people in ways they can understand and apply to their everyday lives. He has written 13 other books, including The Creative Marriage; Outrageous, Contagious Joy; The Creative Leader; and Kid CEO.
Ed also hosts a weekly television program that airs weekly on ABC Family
As a frequent conference speaker and much sought-after church leader, he provides resources for churches through CreativePastors.com and the Creative Church Conferences (C3).
Over the years, Ed and Fellowship Church have been featured on television shows and other media outlets such as The Colbert Report, Good Morning America, The Today Show, The New York Times, and the Wall Street Journal.
Ed has been married to his wife, Lisa, for twenty-nine years. They have four children and live in the Dallas/Fort Worth area.
To learn more about Ed, see what's on his mind, what he's up to and what drives him each day, visit edyoungblog.com. Or follow along and connect on Facebook, Twitter, YouTube and Vimeo.
Praise for Sexperiment
"It's not a lack of love that makes a marriage monotonous; it's a lack of passion. Sexperiment will help you put the passion back where it belongs...and take your marriage where it needs to be!" —Rev Run
"Ed and Lisa Young have modeled a Christ-centered marriage for over 25 years. Their straightforward, encouraging and practical teaching in SEXPERIMENT will take your marriage to a greater depth of intimacy than you've ever known before."—Craig and Amy Groeschel, Senior Pastors of LifeChurch.tv, Author of WEIRD, Because Normal Isn't Working
"Honestly, most of the preaching and teaching about sex, love, and marriage is not getting the job done. The marriages and sex lives represented in the church look no better than the world's. And the reason is because our approach to the subject is based on restraint rather than vision. In SEXPERIMENT, Ed Young, a man with a marriage and family worth aspiring to, changes that. If you want to experience all of the pleasure and happiness God intended for your marriage, this book is a must-read."—Steven & Holly Furtick, Lead Pastors, Elevation Church; Author, Sun Stand Still
"Ed and Lisa Young are longtime friends of ours, both personally and in ministry. Their sense of humor, love for life and for growing a church full of flourishing Kingdom-minded people is contagious! They care deeply about people and their marriages; and offer a perspective that makes this book a good read!"—Brian and Bobbie Houston, Founding Pastors Hillsong, Sydney Australia
"Ed and Lisa are simply fun to be around and their joy as a family speaks even louder than their world renowned church does. My wife and I look at their marriage, the way they still laugh with each other and live life so passionately, and are instantly inspired. Additionally, all their children actually want to hang out with them! Higher praise for parents, you will not find. Obviously, their marriage is impacting, if it works in their own house first. This book should be a pre-marriage pre-requisite and an annual 'wanna stay happily married' re-read! Thank God for a couple that continues to help others build strong marriages."—Carl & Laura Lentz, Lead Pastors of Hillsong, New York City
"Marriage without good sex is like a house without heat in the winter. You might be able to survive in it but it's not nearly as enjoyable. Ed and Lisa are among the best when it comes to encouraging us to keep the "heat on" in the house. Their practical, honest, and open style of communication on this topic is both real and refreshing. I want to encourage you to take this challenge as an opportunity to stir the fire in your marriage.—Pastors Kevin & Sheila Gerald, Champions Centre
"Our culture worships sex but is often confused about marriage. I've always believed that the church should be at the forefront in portraying the delight of sex in the context of marriage. Ed Young's book does just that with humor, wisdom, and candor."—Judah & Chelsea Smith, Senior Pastors, The City Church
###