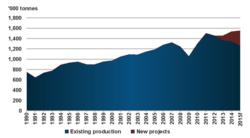 An essential and comprehensive publication covering one of the most buoyant sectors of the mineral sands industry
(PRWEB) January 08, 2012
TZ Minerals International (TZMI) is pleased to announce the release of the latest edition of The Global Zircon Industry – Challenging New Dynamics. In the two years since TZMI published the last edition, the zircon sector has certainly experienced some major changes during that time, the most notable being price increases and a dramatically different supply/demand balance.
Zircon price increases at the end of 2010 continued their upward spiral into 2011. Record prices were achieved during the first half of 2011 with further reported price increases in the second half of 2011. Recently this trend has slowed but it is expected to pick up again in the second half of 2012.
This new edition of the Global Zircon Industry provides particular focus on the rise of the zircon sector since 2009, an analysis of end-use markets, supply and demand dynamics, pricing, new projects and challenges for the future.
The five main end-uses for zircon are: ceramics, foundry casting, steel refractories, glass refractories and performance materials. The largest end-use application is in ceramics with global consumption being steady for the past seven years and China being dominant in this segment. Ceramic products which contain zircon can be categorised into three products, glazed tiles (both ceramic and porcelain), unglazed porcelain tiles and, sanitaryware and tableware. The fastest growing segment for zircon is in specialty chemicals and materials, with updated information detailing the rise in demand from this sector.
Some of the major producers of zircon include Iluka, BeMax, RBM, Exxaro, CRL, Tiwest and DuPont. Consumers are spread much more broadly across the end-uses but include major consumers such as Endeka Ceramics, Guzman Global, Imerys, Industrie Bitossi SpA, Mario Pilato Blat, Shandong Goldensun Zirconium Industry Co Ltd and Zibo Yonbon Zirconium Industry Co Ltd.
The Global Zircon Industry – Challenging new dynamics is an essential and comprehensive publication covering one of the most buoyant sectors of the mineral sands industry. It provides up-to-date commentary and independent analysis of the zircon sector including producers, end-consumers, supply and demand scenarios, potential new sources of supply, as well as an outlook for coming years. The information contained in The Global Zircon Industry is carefully researched drawing on TZMI's extensive database. It is also an essential reference for the industry while identifying key trends and developments within the sector and the broader impact on a global scale.
This publication is a significant resource for participants in the zircon sector and extends to those in the mineral sands industry in general. It is suitable for those wanting to maintain an in depth understanding of the sector, including:

Zircon producers
Zircon end-users including those in: ceramics, specialty chemicals and materials, plus refractories and foundries
New producers
Mineral sands industry participants
Financial industry (fund managers, hedge funds, investors and potential investors)
Orders for The Global Zircon Industry – Challenging New Dynamics are now being taken by TZMI. For more information please visit http://www.tzmi.com or call +61 8 9359 6000.
About TZMI
TZ Minerals International (TZMI) is a global, independent consulting and publishing company with offices in Australia, the US, Europe, Africa and China. The strength of TZMI's consulting services stems from extensive practical experience in the mineral sands, titanium dioxide and coatings industries and from a comprehensive database, which has been built up over many years.
TZMI has proven expertise gained from our consultants having many years of direct operating experience in the industry in chief executive, senior operational, analytical and marketing roles.
TZMI's publications and data services support the consulting activities and ensure up-to-date, high quality and comprehensive data, analysis and information across the mineral sands, zircon and TiO2 pigment industries.
TZMI provides operational and technical expert advice on many areas including:

Mergers and Acquisitions
Market Assessments and industry analysis
Due diligence
Pre-feasibility studies incl. preliminary capital and operating cost estimation
Competitive cost analysis and benchmarking
Technical reviews and audits
Resource assessments
Physical separation test work
Flowsheet development
Customised data analysis and reporting
###