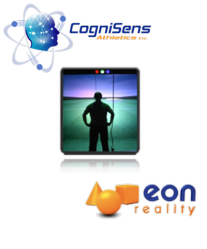 Truly 21st Century immersive VR solutions for team sports.
San Antonio, TX (PRWEB) January 06, 2012
NeuroTracker is an innovative system for improving the mental quickness of athletes through perceptual cognitive training – and will now incorporate Eon Reality's immersive virtual reality technologies combined with gesture-based interface for futuristic simulation, training and motion analysis for sports.
NeuroTracker is already used by elite teams in the NFL, NHL as well as by Olympic athletes and teams in the English Premier League and International Rugby – being described by the English Premier League coach Mike Clegg as "a great method for improving mental ability in the same way we condition skill and fitness."
CogniSens Athletics, a biomedical company that specializes in cognitive training and measurement products for the sports market, has developed applications for the NeuroTracker training system created by Dr. Jocelyn Faubert at the Visual Psychophysics and Perception Lab at the University of Montreal. This merging of neurophysics with sports science has already received prizes for successful technology transfer into the sports market, with exciting new technologies in development.
"This partnership means that we, as leaders in athletic cognitive training, can now provide truly 21st Century immersive VR solutions for team sports." says CEO Jean Castonguay of CogniSens Athletics, recognizing that "the collaboration with Eon Reality will provide an even broader range of NeuroTracker application possibilities for athletes."
EON Reality is the world's leading interactive 3D solutions provider for businesses and education based on Virtual Reality technology. EON Reality provides state-of-the-art 3D display technology for immersive viewing, from portable tablet PCs and glass free stereo display systems to curved-screen and immersive rooms consisting of multi-channel projection walls. Eon Reality has also identified elite sport as a prime area in need of virtual reality training solutions, and believes that the combination of simulation and NeuroTracker training is the way forward:
"Cognitive training helps the athlete recognize what the opponent is doing, and to be one step ahead," states director of Eon Sports Brendan Reilly, who is equally enthusiastic about training possibilities brought about by this partnership. "Simulation allows the athlete to not only prepare better, but accelerate experience. These technologies will change how teams develop their athletes and how athletes prepare for competition."
The collaboration will combine the scientific validation of the CogniSens Athletics innovative technologies with the virtual reality technical know-how of Eon Reality's software development team. CogniSens and EON will work together to provide immersive virtual reality environments for training, as well as a Microsoft Kinect-based hands-free interface allowing athletes to control the virtual environment which will be showcased at the AFCA and NSCA Conferences in San Antonio, January 6-10, 2012.
Athletes will be able to improve their action-response time through NeuroTracker training as well as engaging in sports-specific simulations in cutting edge immersive Virtual Reality environments, and all of this will be done through a hands-free control system where the athlete only needs to gesture to choose a program, select a target, catch a ball or strike a puck.
Training the brain, adding motor skills, and graduating to a fully immersive virtual environment is quickly becoming the future of high-level sport science.
###