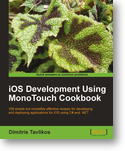 Birmingham, UK (PRWEB) January 08, 2012
Packt is delighted to announce the release of iOS Development using MonoTouch Cookbook, a compilation of over 100 simple but incredibly effective recipes for developing and deploying applications for iOS using C# and .NET. Written by Dimitris Tavlikos, the book also provides an introduction to some of the new features of iOS 5.
iOS (formerly iPhone OS) is Apple's mobile operating system. Originally developed for the iPhone, it has since been extended to support other Apple, Inc. devices such as the iPod Touch, iPad, and Apple TV. MonoTouch developed by Xamarin allows developers to create C# and .NET based applications that run on the iPhone.
iOS Development using MonoTouch Cookbook consists of recipes to create fully working MonoTouch projects using step-by-step instructions. Minimum theory and maximum practical action defines this book. It is jam packed with recipes for interacting with the device hardware, like the GPS, compass and the accelerometer. The book covers recipes for those all important real world issues such as designing the UI with the integrated designer introduced with Xcode 4. It is the essential cookbook for C# and .NET developers wanting to be part of the exciting and lucrative world of iOS development.
Using the book readers will learn to create applications specifically designed for the iPad, graphics and animation for powerful applications and consume .NET web services, including WCF. They will learn to capture and manage multimedia resources using the device's camera and microphone as well as use the accelerometer to capture and respond to device movements. Finally, the book also provides information about deploying applications the App Store along with introduction to some of the new features of iOS 5.
An essential read for C# and .NET developers with no previous experience in iOS development and Objective-C developers that want to make a transition to the benefits of MonoTouch and the C# language, for creating complete, compelling iPhone, iPod and iPad applications and deploying them to the App Store. To read more about the book, please visit: http://link.packtpub.com/ng8TC8
# # #