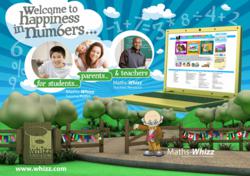 We look forward to welcoming, Teachers, Ministers, Educationalists and new partners
London, England (PRWEB) January 07, 2012
In keeping with the 'Powering Learning' theme of BETT 2012, Maths-Whizz, the online suite of services that guarantees raised standards in numeracy for 5 to 13 year-olds, is encouraging visitors to 'power happiness in numbers'. The award-winning system encompasses online tutoring service Tutoring Plus and the online, teacher-led content library, Teachers' Resource. Maths-Whizz creates positive learning outcomes by building confidence and encouraging shared, interactive learning at home and in schools. Crucially, progress is measurable, as students are continually assessed. This detailed real-time reporting is very beneficial for schools wishing to access government funding.
Visitors to BETT will be able to experience Maths-Whizz first hand. Demonstrations by practitioners (teachers and non-teachers), using whole-class interactive tools and best practise guidance, will show why Maths-Whizz is proven to raise standards in maths. The newly-launched features of Teachers' Resource* (v 3.2) and a superb related show offer* complete the Maths-Whizz BETT experience.
Visitors to BETT 2012 are invited to:

Meet Whizz Prof, in attendance each day. There will also be plenty of stickers, pens and other treats for teachers to take away for their school.
Take advantage of the BETT school offer:
In addition, and exclusive to BETT visitors, any school that buys at BETT will be able to buy version 3.2 of BETT award-winning Teachers' Resource for just £750*.
Daily discussion forum with current teacher and Headteacher Maths-Whizz Users, please follow us on twitter @whizzprof for more details.
Educationalists Katie Krais and Lorrae Jaderberg share perspectives on how to raise numeracy standards through after school clubs on Thursday 12th.
Notes for Editors:
Maths-Whizz is brought to you by Whizz Education - an award-winning company that inspires children, adults and schools to engage in learning through multimedia products and services.
###