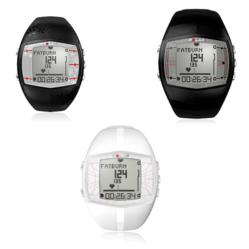 "Building the foundation has to occur first before you attempt to put a roof on a house
Bozeman, MT (PRWEB) January 09, 2012
The Polar FT40 heart rate monitor is uniquely suited to meeting weight loss goals and New Year's resolutions because it keeps people focused on their fat burning zones and even provides total calories from fat for every workout. According to the Heart Rate Watch Company this is the best heart rate monitor for those wishing to lose weight.
"The Polar FT40 offers a unique graphical zone indicator so you know precisely when you are in your fat burn and cardiovascular zones" says Rusty Squire, President of the Heart Rate Watch Company. He continues, "The ability to do both total calories and calories from fat really sets this watch apart and keeps people focused upon their goals with measurable results."
The FT40 uses the comfortable Wearlink chest strap made of patented heart-sensing fabrics which is among the most comfortable straps available. Polar heart rate monitors are also designed for integration with gym equipment because Polar invented the heart rate monitor more than three decades ago and has been working with equipment manufacturers longer than any other heart rate monitor company.
Polar FT40 also offers several other unique features that are only found in Polar watches like Heart Touch and a Fitness Test. Heart Touch allows the user to automatically change the screen to time and date by moving the wrist unit near the transmitter, which comes in handy for checking time on treadmills and elliptical machines. The Fitness Test is a 5 minute test done at rest that does an approximation of aerobic fitness.
"Polar also offers tools like online training videos for the FT40 which guide users right through the set-up and functions of the watch" says Squire. He adds, "This great level of customer support is part of what sets Polar apart from other heart rate monitor manufacturers."
For individuals looking to lose 10, 20, or even 50 pounds a heart rate monitor like the Polar FT40 will lend the right focus by concentrating workouts at the proper intensity to really burn the fat.
Many exercisers are not aware that the body uses fat for fuels at lower intensity levels. At higher intensity levels, like 70% to 85% of maximum heart rate, the body tends to use carbohydrates for fuels. By focusing on the proper intensity level it greatly increases the likelihood of meeting weight loss goals.
Especially for people just starting back into an exercise routine for the first time in years, it is very important to have a prolonged base building period at lower intensity before beginning higher intensity workouts. As Squire says, "Building the foundation has to occur first before you attempt to put a roof on a house and this analogy holds true for exercise."
For many newly returning to exercise this may well mean that walking is a great way to start because it allows exercise at a more modest intensity and build a foundation. The key is to stay between 65% and 70% of maximum heart rate, which can be roughly approximated as 220 minus one's age. Just take the resulting number and multiply by .65 and .70 and this will be the ideal range for fat burning and base building.
###