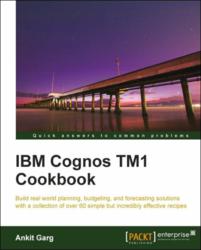 UK (PRWEB) January 09, 2012
Birmingham: Packt is delighted to announce the publication of the IBM Cognos TM1 Cookbook, a comprehensive guide filled with a collection of over 60 incredibly effective recipes that enable readers to become acquainted with the tool and ready to take on TM1 projects in the real world. The book and eBook is available from Packt Publishing and other leading retailers.
IBM Cognos TM1 is one of the most popular multidimensional analysis tools used to build collaborative planning, budgeting and forecasting solutions, as well as analytical and reporting applications. This cube-based technology does fast number crunching at the server end and helps end customers move away from manual and tedious processes.
Filled with practical recipes, this cookbook will enable existing TM1 users and developers to take on TM1 projects in the real world by focusing on fundamentals of MOLAP and dimensional modeling. Additional chapters are more TM1-specific, and the book highlights dimensions and cubes as well as how to create and manage them by digging deeper into TM1 objects and rules. Automating common processes by using scripts, customizing drill paths, using rules for advanced modeling, converting currencies, modeling for different fiscal requirements, and other advanced features have also been explained in the book.
The book is available in print, eBook, Kindle, and selected library formats.
Packt Publishing has released, and is due to publish, other IBM Cognos titles:

IBM Cognos TM1 Developers Certification guide (Due 2012)
All IBM Cognos books are published by Packt Enterprise. Packt Enterprise is a publishing division of Packt Publishing created to serve the information needs of IT Professionals in the Enterprise space. Packt Enterprise also publishes on Microsoft, IBM, Oracle, Citrix, Java, Amazon, Google and SAP technologies.
###