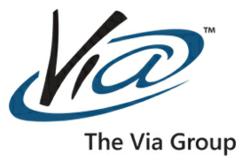 Unified Communication solutions connect both technology and people
The Woodlands, Texas (PRWEB) January 09, 2012
Backed by more than 20 years of experience providing IT consulting and telephony deployment for Fortune 100 partners such as Microsoft, Dell, Avaya and Plantronics, The Via Group provides communications design systems that reduce costs while improving business processes and increasing top-line revenues.
To aid companies in understanding the transformative power of a unified communication system, the Via Group has released an updated website that features an assortment of case studies from some of the nation's most prestigious corporations and institutions, including Western Kentucky University and Qualcomm. The website also now spotlights breaking news and events from partners Microsoft and Avaya.
By remotely developing and integrating top-notch unified communications solutions into the corporate culture, The Via Group helps companies connect with customers in innovative ways. Working with Microsoft Office 365, professionals, small businesses and educational institutions have access to a suite of productivity tools that provide a consistent, unified interface across multiple media platforms. Microsoft Office 365 allows companies to bring the power of the cloud to their business so that collaboration can occur virtually anywhere via technology such as instant messaging and video conferencing.
"Unified Communication solutions connect both technology and people," says President and CEO Kevin Carswell. "It represents the voice of the people in this increasingly fast-paced, technology driven world, and it empowers people to manage the multitude of text and voice messages, emails and conference calls that inundate their daily lives."
About The Via Group
A true believer in the technology that is provided to its corporate clients, Via is a four-time recipient of the Sloan Award for excellence in workplace flexibility. By seamlessly integrating modern technologies, Via helps companies bridge the gaps that exist between telephony deployment and IT consulting by solidifying them into a single unified communications solution.
###