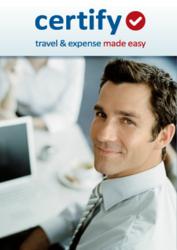 Certify Travel reduces overall travel costs and increases travel policy compliance.
Portland, ME (PRWEB) January 09, 2012
Certify, a leading online expense management company, today announced Certify Travel, a fully integrated travel management solution designed for small, medium and large businesses. The new travel offering comes as a tightly integrated feature, providing Certify clients with a full service, industry leading travel and expense management system.
The new Certify Travel solution works seamlessly with Certify's Expense Management solution, allowing users to book business travel and automatically create expense reports directly from the traveler's itinerary. Business travelers can easily locate the new travel feature from their Certify home page, where they have the ability to book flights from all major airline providers, as well as book hotels and rental cars. All travel booked through Certify Travel automatically creates a new expense report with an expense entry for each travel item, creating a seamless integration between booking business travel and managing travel expenses.
"Certify Travel is a natural extension for our expense management business," said Bob Neveu, president of Certify. "Our clients can now access integrated online travel booking services within the Certify platform, ensuring greater expense policy compliance, ease of use and higher user adoption rates."
A key feature of Certify Travel is Pre-Trip Notification Service for all travel bookings. This feature provides a client's management team with automatic notification of employee travel purchases, allowing the manager to approve or modify them within the first 24-hours of booking. This feature ensures greater compliance with company travel policy, giving management advanced insight into travel spend.
Certify Travel allows clients to embed their existing travel policies into the online booking service. This includes creating booking restrictions for employees such as placing a maximum spend on airfare and specific airline carriers, and incorporating negotiated corporate travel rates, further reducing overall travel costs and increasing travel policy compliance.
For more information regarding Certify's products or to request a demo of the product visit http://www.certify.com.
About Certify
Certify, LLC, is an online travel and expense management company that provides expense report and travel booking to corporations and individuals. The company provides a true SaaS on-demand travel and expense management solution which includes capturing receipts via mobile applications, and corporate credit card integration. Founded in 2008, Certify is financed by the founding team and a group of angel investors. Headquarters are located in Portland, Maine.
For more information about Certify please call 207.773.6100 or visit http://www.Certify.com.
###