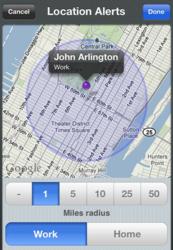 iKeepInTouch is designed to make it incredibly easy and effective to get automated, location-based reminders, alarms and alerts for contacts
Cupertino, CA (PRWEB) January 27, 2012
Designed to take advantage of the iOS5's ability to track location-based contacts, iKeepInTouch is an innovative free new app that helps users keep in touch with their important contacts, schedule meetings when they are, or will soon be, near their contacts' location, and even steer clear of contacts they'd prefer to avoid.
When used as a reminder app, iKeepInTouch lets users create alerts for select contacts based on specific intervals (monthly or annually), or specific dates (meetings, birthdays, anniversaries, and more). Plus, after receiving a reminder alert, iKeepInTouch's intuitive interface makes it easy for users to place a call, send an email, write a text message (SMS or iMessage), or even place a FaceTime call.
When used to track contacts, iKeepInTouch lets users know when they're in close proximity (1-50 miles) of selected contacts, such as their home, place of work, or any other location entered into the address book. Users can then either try and schedule an impromptu meeting, or if they wish, change direction so that they avoid bumping into their contact.
"iKeepInTouch is designed to make it incredibly easy and effective to get automated, location-based reminders, alarms and alerts for contacts," commented Jerome Leroy of H2Apps, the app's co-creator. "And since we've made it easy for users to import their address book contacts, there's virtually no set-up time. Users simply download the app, import their contacts, enter in their reminders by event, time or location, and they're all set. It's the kind of time and stress-saving app that's ideal for everyone, from business professionals, to busy moms, to students and more."
iKeepInTouch, the innovative app that uses the iOS5's new ability to track location-based contacts, is available now for free download in the App Store.
For more information or media inquiries, contact Mark Johnson of appshout! on behalf of H2Apps at +1 408 757 0086 or press(at)myappshout(dot)com.
About H2Apps
H2Apps strives to create 5-star apps for iPhone and iPod Touch. The company's current app line-up features iKeepInTouch and iTempo. To learn more visit http://www.h2apps.com.
# # #