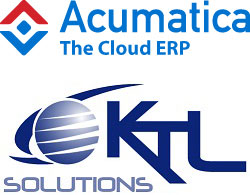 Mid-sized businesses want the option to deploy accounting software on-premise or in the cloud using familiar Microsoft technology.
Frederick, MD (PRWEB) January 09, 2012
KTL Solutions, Microsoft Silver Dynamics ERP Partner, announced today that they have joined the partner program of Acumatica, the award-winning cloud-based integrated financial management solution. Through the addition of Acumatica, KTL Solutions gives Mid-Atlantic based small and medium-size businesses the choice of cloud, hosted or on-premises deployment of Microsoft-based ERP.
Non-profit organizations and businesses are moving to cloud-based financial and business management solutions that save on capital investment and IT support costs. With Acumatica, KTL Solutions is able to offer a full-featured, Microsoft-based ERP solution combined with expert supporting services. Deployment options include on-premises installation or software as a service (SaaS) running in the Microsoft Windows Azure datacenters.
"Acumatica is recognized for bringing the benefits of cloud technology to mid-sized organizations through fully integrated accounting and ERP software," noted Gary Francart KTL Solutions Director of Sales and Marketing. "We are very excited to be on the forefront of a new age in business management computing." Francart will serve on the Acumatica Advisory Board providing input to help guide the future direction of the software.
"Business partners like KTL Solutions allow us to extend the value we bring to our client relationships," said Kenneth Del Gobbo, Director of Worldwide Channel Sales for Acumatica. "With a long history of success delivering financial systems as well as strong financial, technical and business skills, we are confident in KTL Solutions' ability to deliver and customize cloud ERP solutions for customers in the Mid-Atlantic region."
About KTL Solutions
KTL Solutions delivers Microsoft-based ERP and CRM business management solutions and services to businesses and non-profit organizations. Since 1999, KTL Solutions' business professionals have helped clients use technology to enhance financial control and improve operational productivity. Visit http://www.ktlsolutions.com for more information.
About Acumatica
Acumatica develops web-based ERP software that delivers the benefits of Cloud and SaaS without sacrificing customization, control, security, or speed. Acumatica can be deployed on premise, hosted at a datacenter, or run on a Cloud computing platform. Learn more about Acumatica's Cloud ERP solution at http://www.acumatica.com.
###