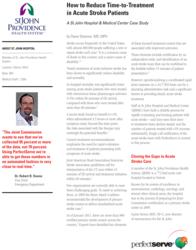 Knoxville, Tenn. (PRWEB) January 10, 2012
PerfectServe, the leading provider of clinical communications and clinical information delivery, has announced the release of a new paper, "How to Reduce Acute Stroke Time-to-Treatment at St. John Providence."
According to the report, "Operationalizing a coordinated rapid team response on a 24/7/365 basis can be a daunting administrative task and a significant barrier to providing timely acute stroke treatment."
Staff at St. John Hospital and Medical Center in Detroit, Mich. have established a process to rapidly evaluate and treat acute stroke patients and in doing so, have experienced a 90 percent decrease in the on-call neurologist response time, and a 41 percent decrease in the door-to-CT completion time.
The paper cites "single-call notification of the acute stroke team with PerfectServe" as being central to the process and outlines the following steps to improve patient outcomes:

Launching a team-based approach.
Implementing a standardized process.
Using call tracking to improve data collection.
To download the entire paper, please visit http://www.PerfectServe.com/PR.
About PerfectServe
Advancing the coordination of care across the continuum, PerfectServe's clinical communication and information delivery platform makes it easy for health systems to connect their clinicians—and push relevant clinical information—to the right physician at the right time, in the precise way each physician wishes to be reached. Based in Knoxville, Tenn., PerfectServe processes more than 30 million transactions annually via its platform connecting more than 20,000 physicians in health systems and medical practices across 154 markets in the U.S. For more information go to http://www.perfectserve.com or call 877-844-7728.
###