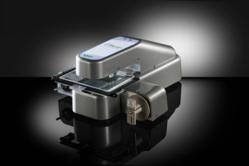 "We've taken the technology of our high-end commercial units and blended them into a single microform unit that can offer archival quality to a walk-up user such as a student, educator, library patron, record
Frederick, Maryland, USA and Basingstoke, UK - (PRWEB) January 08, 2012
Christopher Crowley, president of The Crowley Company, announces the January 20th debut of the Wicks and Wilson UScan, the firm's first self-manufactured on-demand microform scanner, at the upcoming American Library Association Mid-Winter Conference in Dallas, Texas. Designed for walk-up patron use, the ultra-portable UScan unit fits easily on a standard desktop and digitizes all film formats (microfilm, microfiche, jumbo fiche and aperture and micro-cards) as well as photographic materials (slides, negatives, etc.). "Manufacturing a walk-up microform unit is a natural extension of our production-volume lines, the Mekel Technology and Wicks and Wilson microfilm, microfiche and aperture card scanners," states Crowley. "We've been able to take the technology of our high-end commercial units and blend them into a single microform unit that, while designed for non-archival use, can offer archival quality to a walk-up user such as a student, educator, library patron, records clerk or lender."
Adds Matthew McCabe, vice president of business development, "The UScan offers several advantages over the units currently on the market, the most apparent being a color digitization option. Additionally, the UScan provides an option for auto or batch scanning, a necessity as the public becomes savvier in operating walk-up scanners." He continues, "Traditionally, American Library Association events have been a very good forum to introduce new products. The conferences are well attended and the audience is very engaged. Often, it's the feedback that we get from conference conversations that lead to the R&D of new products such as the UScan. ALA Mid-Winter in Dallas provides an ideal time and venue for this debut."
TECHNICAL DETAILS
Slated to begin shipping in late spring, the UScan offers:

Multi microfilm format scanning
Output to print/USB/email/cloud
Color, bi-tonal and grayscale scan options
Whisper-quiet operation
One-button frame capture
Motorized roll film option with full auto-scan
Direct output to searchable text (OCR)
Customizable icon-driven touchscreen interface
Kensington security lock
The unit measures 20.5"x11.5" x 8.8" (522mm x 290mm x 224mm) without the option roll-film carrier, which adds an extra 6" (149mm) depth.
About The Crowley Company
The Crowley Company is a world-leader in digital and analog film technologies and provides an extensive number of digital document and film conversion services to the academic, publishing, commercial, government and archive sectors. The company manufactures, distributes and services high-speed microfilm, microfiche, aperture card, book and document scanners, microfilm duplicators, film processors and micrographics equipment.
###
Twittercue: On Jan 20, Crowley introduces the UScan, their first multi-industry walk-up microform scanner at #alamw12. http://bit.ly/xqWR9g