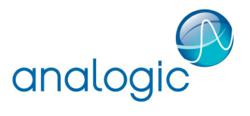 "I want to extend my thanks to the Grant marketing team, for a great job in helping us pull together our new brand messaging and logo. The management team here at Analogic was very happy with the output,"
Newton, MA (PRWEB) January 18, 2012
Grant Marketing, a Boston based B2B brand development and integrated marketing communication firm, announces the redesign of the new Analogic Corporation (Nasdaq: ALOG) logo and corporate identity. Analogic engaged Grant Marketing to develop a brand strategy, mission and vision statements, tag line, and new logo complete with corporate style guide for its worldwide organization. With over 1,500 employees worldwide, including more than 400 engineers and scientists, Analogic is a global leader in medical imaging technology for high-performance computed tomography (CT) subsystems, procedure-driven ultrasound systems and transducers, magnetic resonance imaging (MRI) power subsystems, digital mammography selenium-based detectors, and automated threat detection systems for airports. The new Analogic corporate logo design, along with associated product family brands of BK Medical, Sound Technology, and Copley Controls, employs a common global logo to reflect the products and technologies sold around the world. This new branding and common logo support Analogic's transformation to a unified global organization aligned along its three business units of Medical Imaging, Ultrasound, and Security Technology.
"I want to extend my thanks to the Grant marketing team, for a great job in helping us pull together our new brand messaging and logo. The management team here at Analogic was very happy with the output," according to Mark Namaroff, director of investor relations & corporate marketing.
"We appreciate the opportunity to partner with Analogic and enjoyed working with their staff and management team. I also want to thank our Grant Marketing team for their smart, creative, and hard work. Thanks to Rob Levinson, our brand strategist, Kathie Coe-Renner, creative director, Grant Penny, art director, and Paul Jarosik who lead the team as account manager." said Bob Grant, president of Grant Marketing.
Grant Marketing, located in Newton, MA specializes in B2B integrated marketing communications. Grant helps B2B technology, business service, and manufacturing companies with brand development, integrated marketing strategies, marketing plans, interactive marketing, website design, and web analytics. For more information visit Grant Marketing at http://www.GrantMarketing.com .
About Analogic Corporation
Analogic (Nasdaq:ALOG) provides leading-edge healthcare and security technology solutions to advance the practice of medicine and save lives. We are recognized around the world for advanced imaging systems and technology that enable computed tomography (CT), ultrasound, digital mammography, and magnetic resonance imaging (MRI), as well as automated threat detection for aviation security. Our CT, MRI, digital mammography, and ultrasound transducer products are sold to original equipment manufacturers (OEMs), providing state-of-the-art capability and enabling them to enter new markets and expand their existing market presence. Our market-leading BK Medical branded ultrasound systems, used in procedure-driven markets such as urology, guided surgery, and anesthesia, are sold to clinical end users through our direct sales force. For over 40 years we've enabled customers to thrive, improving the health and ensuring the safety of people around the world. Analogic is headquartered just north of Boston, Massachusetts. For more information, visit http://www.analogic.com.
###