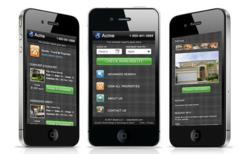 InstaManager Mobile delivers the best online experience for mobile travelers.
Hollywood, FL (PRWEB) January 09, 2012
Bookt LLC, a pioneer in cloud-based technology solutions for the professional vacation rental manager, has announced that mobile websites are ready to launch for all current and new InstaManager FLEX clients as an affordable upgrade.
"The beta rollout of our mobile technology has shown some encouraging internal client numbers," said Rob Käll, CEO of Bookt. Case and point is John Paulsen, President of http://www.DestinGetaways.com. "We have had significant improvement in mobile visitor engagement since launching the mobile site," John said. "In December for example, time on site was up 23% and bounce rate was down 17%, both telltale signs that the site is more useful for people with mobile devices." Paulsen added, "What's also very interesting is that the number of visitors accessing with mobile devices more than tripled compared to Dec 2010."
Käll added, "Forrester Research now reports the mobile web will join traditional websites as the top two travel touchpoints in 2013. That is why we are so focused on our InstaManagers adopting the mobile web right now and before their competitors, and why we are giving everyone a free 3-month trial to make it happen right now."
InstaManager FLEX is a groundbreaking product combining powerful vacation rental manager software with tailored marketing distribution through FlipKey and TripAdvisor, with pricing starting at $1 with additional fees tied exclusively to a client's booking success. Now with the fully-optimized Mobile Web upgrade, consumers can search, check availability, book, and get their confirmation all via their Smartphone or other mobile device. "InstaManager Mobile delivers the best online experience for mobile travelers," said Käll. "It's faster load with all relevant info available and built exactly for the smaller screens."
Since 2007, Bookt has successfully served a fast growing global network of vacation rental managers. With the introduction of InstaManager FLEX and continual rollout of new features like Mobile Web, Bookt anticipates accelerated growth and rising market prominence. Learn more at: http://www.instamanager.com.
About Bookt™
Bookt is a leader in cloud based solutions for vacation rental managers, hoteliers, innkeepers, and larger travel organizations in the lodging industry. Bookt's software and integrated marketing services make specialty lodging companies more effective with activities that directly drive their revenue, manage resources, and provide business control. Our flagship product, InstaManager, is delivered in partnership with TripAdvisor targeting the $85B Vacation Rental Industry. Sophisticated PMS, CRS, CRM, CMS, distribution and back-office functionality is delivered through the cloud to customers in over 31 countries on 5 continents. Learn more at http://www.bookt.com.
###