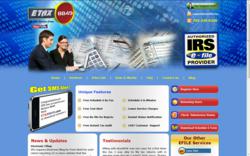 (PRWEB) January 06, 2012
Tax2efile is a leader in IRS e-filing. In addition to the many forms already available for e-filing such as Form 2290, 1099 & 7004 Tax2efile has launched a new site for filing Form 8849 online.
Form 8849 is used to claim refunds of excise taxes reported on Form 720, 730, or 2290, including the repealed luxury taxes. Also use Form 8849 to claim refunds of excise taxes imposed on fuels, chemicals, and other articles that are later used for nontaxable purposes or for which there is a reduced rate of tax.
A claim must be filed during the first quarter following the last quarter included in the claim. So a claim for the quarters consisting of July through September, and October through December, must field between January 1 and March 31.
Etax8849 offers 24/7 customer support as well as web chat support. There staff has years of combined tax and technology experience. No matter what the question or concern their staff will be able to assist in filing Form 8849 online. Visit Etax8849.com for more information regarding e-filing Form 8849 today.
# # #