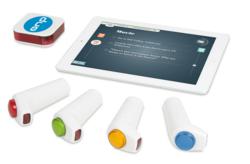 Seattle, WA (PRWEB) January 09, 2012
Discovery Bay Games, a leader in app-based game accessories, announced the launch of its new iPad game app, 'In the Know – Duo™'. Now available on the App Store, In the Know is compatible with the company's Duo Pop™ accessory for iPad.
In the Know – Duo™
Less is more with In the Know, a new trivia game that delivers clues progressively. The fewer clues you need to figure out the answer, the more points you earn. Train your brain in solo mode or play with others using Duo Pop, then share your scores on Facebook and Twitter.
Additional features:

Spotlights your favorite celebrities, music, movies and TV shows from the '70s to today.
Supports Game Center, so you can post your scores on the leaderboard.
"We now have eleven apps that work with our Duo line of app-based accessories for iPad," said Craig Olson, CEO of Discovery Bay Games. "In the Know combines popular culture with the cool factor of playing games on iPad. With Duo Pop, you can turn your iPad into a buzz-in style quiz show."
The In the Know App is available for free from the App Store on iPad or at http://www.itunes.com/appstore. The Duo Pop accessory is available for $39.99 at Apple Retail Stores, Apple Online, Target and Toys"R"Us.
About Discovery Bay Games
Based in Seattle, Discovery Bay Games makes award-winning and innovative games, apps, and tablet and iOS game accessories that suit all ages and interests. The company's mission is to bring friends and families together to play, laugh, and interact. Discovery Bay is led by experienced game developers and professionals from a bevy of game companies including Cranium, Hasbro, Microsoft/Xbox, and Screenlife. Discovery Bay partners with internationally recognized brands and licensors such as Atari, Broadway Video/Saturday Night Live, GALLOP!, Highlights for Children, and the Smithsonian Institution. For more information, visit Discovery Bay Games or follow the company on Facebook or Twitter.
###