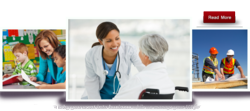 a true feel for the nature of the company
Duluth, Georgia (PRWEB) January 09, 2012
HR Strategies, a Human Resource firm, has unveiled their new website as part of a vast rebranding strategy. The website will enable clients and prospects to visualize the organization of the company and the vast human resource solutions that they provide.
Through the new website, HR Strategies is allowing clients and prospects to fully see how their solutions can be implemented to reduce the administrative burdens of human resource functions on business owners. The website permits prospects to have a true feel for the nature of the company; along with the staff and management style of HR Strategies. The website includes detailed information on the services that can be provided and how they benefit businesses. In addition, the website features a "newscast" and "resource center" that provide valuable information on many aspects of human resource management and regulatory compliance; through articles, blog posts, and many other forms.
The website is easy to navigate, and visually pleasing. Thus, allowing clients and prospects to easily find the information that they are seeking.
About HR Strategies
HR Strategies provides the customizable HR solutions (including but not limited to payroll, benefits, workers compensation, tax administration, regulatory compliance, HR consulting, training solutions) and expertise of a large corporation's personnel department in an affordable and effective solution. HR Strategies enables clients to reclaim time, stabilize and reduce labor costs, and stay compliant with government regulations.
###