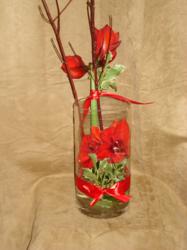 It all starts with a flash of inspiration. . .
Folcroft, PA (PRWEB) January 08, 2012
Leading corporate floral arrangements specialist, Hoffman Design Group, provides floral centerpiece donations for many events around the Philadelphia region, most recently to the GPHA luncheon event held on Monday, December 12, 2011 at the Sheraton Society Hill.
The annual luncheon honored Paul Levy, President and CEO of Center City District, with the LAGOS Heart of Philadelphia Award. Also recognized were the recipients of the GPHA Michael M. Boyle Scholarship.
So what exactly needs to come together for Hoffman Design Group to make these unique floral centerpiece donations happen? Floral Design Manager Diane Badaracco states, "It all starts with a flash of inspiration when we are first faced with a request. It always works out to be a collaborative effort with our design team. Once an idea is solidified, the rest just develops naturally into something beautiful."
For this GPHA event, Diane, along with Designer Jennifer Longo, created the 33 centerpieces using red lion amaryllis, variegated holly, and red twig dogwood. A touch of red satin ribbon was added to create a feel of holiday elegance that complimented the festivities.
Check out the photos of the different stages of the process on our website.
About Hoffman Design Group
Hoffman Design Group, Inc, is located in Folcroft, PA, and specializes in creating beautiful interiorscapes, corporate floral arrangements and living wall designs in Philadelphia and the surrounding suburbs, Delaware, and New Jersey. Its designs have won many awards and they take pride in their elegant, environmentally friendly seasonal and holiday decorating, corporate interior plantscapes and urban exterior landscaping. For more information, visit http://www.hoffmandesigngroup.com.
# # #