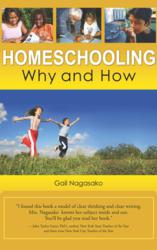 Minneapolis, MN (PRWEB) January 09, 2012
We've all heard of homeschooling, but how much do you know about it? Homeschooling has often been forced to the back of the classroom, seen as a last resort choice for troubled children or overly-protected ones. What if there was a book that dispelled these notions? A book that showed homeschooling can be the best path for many students to succeed and live a vibrant social life? The book is titled Homeschooling: How and Why
In Homeschooling, author Gail Nagasako outlines how to provide a full education tailored specifically to fulfill all types of students. The notion that homeschooled students miss out on positive socializations is proven wrong. Through real life examples from the numerous families she's personally counseled, she show readers how to tailor an education for all types of students. She also details why and how a homeschooled youngster doesn't miss out on positive socialization.
If anyone knows the ins and outs of homeschooling it is author Gail Nagasako. She has done everything from starting an alternative school to writing articles on education to counseling parents the Hawaii school system and internet sites sent to her. If you're looking to explore other educational avenues or interested in learning more about how your child learns, Homeschooling: How and Why is a must read
Gail Nagasako lives in Wailuku and continues to play a pivotal role in the Hawaii education system. Parents started learned about her son's successful transition into the working world from the homeschooling system (http://hifocused.com/), so Gail was receiving endless amounts of phone calls and emails a day from parents simply wanting to know about homeschooling. With the amount of calls increasing, local publications requests to write about homeschooling, she knew she had to share her experience. Thus Homeschooling: How and Why was born.
###