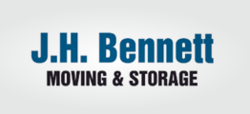 PreferredLocalBusiness.tv happily welcomes their newest listing for Meadville Moving Company.
Meadville, Pennsylvania (PRWEB) January 06, 2012
A Meadville Moving Company has never been as easily accessible as it is today, thanks to J.H. Bennett Moving & Storage joining PreferredLocalBusiness.tv, a local preferred business directory that will make this Meadville Moving Company immediately available to local internet searchers.
About J.H. Bennett Moving & Storage:
A family tradition since 1914 J.H. Bennett Moving & Storage is recognized as one of the country's oldest family-owned moving companies. From World War I through the Great Depression through World War II and on in to the challenges of the 21st Century the company continues to prosper and lead the way as the region's largest provider of local and long distance moving service.
A major turning point in the company's direction occurred in 1964 when J.H. Bennett became agent for United Van Lines, this single event enabled a well known local resource to have a national and international reach. United Van lines, the country's largest mover, demand of measured quality and adherence to strict business principles fits perfectly with J.H. Bennett's family culture of personal attention to their customers.
Moving can be a very stressful point in one's life. That is why J.H. Bennett's pledge to their customers is to be easy to do business with, be a leader in quality, provide easy to understand pricing and provide flexible moving solutions. From the initial visit with their experienced consultant who will provide a full range of service choices and pricing, to their dedicated Move Coordinators who provide a single point of contact during the move to assure that all details of the move are taken care of and that all concerns, questions and needs are addressed.
For the "do it yourself", customer J.H. Bennett, through their Go Minis division offers a portable container service. They will deliver a 12 foot, 16 foot, or 20 foot container for their client to load, or they will load then deliver to the J.H. Bennett facility for storage or to a delivery address of their client's choice. The containers are used for storage, local and intrastate move, home staging, home restoration and even disaster recovery.
J.H. Bennett operates from the regions most modern climate controlled warehouse, meeting rigid standard of security, safety and quality. They are a company focused on the future, rooted in the understanding of their customers needs and dedicated to maintaining their leadership in the region.
J.H. Bennett Moving & Storage provides outstanding care delivered by a dedicated team meaning their clients receive the personalized treatment and attention required for a stellar Moving Company experience. PreferredLocalBusiness.tv happily welcomes their newest listing for Meadville Moving Company.
###