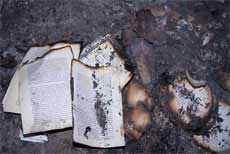 This is why I am on a mission to educate my Chicago community on fire prevention so they can avoid costly fire damage repair.
Chicago (PRWEB) January 06, 2012
All heating equipment does two things the same. They all heat the air and they all can cause fires if not properly used or maintained. "According to the National Fire Protection Association, heating equipment like space heaters, furnaces, wood stoves and fireplaces account for almost 80 percent of fire deaths between 2005-2009", says Rick Majewski, General Manager of Flood Specialists, Inc., one of Chicago's largest providers of fire damage repair and water damage restoration services.
Many people take their home heating for granted and do not realize how quickly every possession they have can be destroyed by fire damage. Instead, families huddle around the fireplace or burn wood in their antique wood stove while sipping hot chocolate. Those who do not have these luxuries keep warm with a conventional furnace and a sweater. The less fortunate only have an electric space heater to keep them warm.
Recently, two adults and three children died during a fire that started because of improperly disposed of chimney ashes. The ashes were still hot when thrown into the trash. Rick said, "This could have been avoided if this family understood how ashes can still have hot coals. This is why I am on a mission to educate my Chicago community on fire prevention so they can avoid costly fire damage repair. We've added some helpful tips on our website." Below are just a few of these tips.

Fireplace ashes should never be thrown into the trash and left indoors. Ashes can remain hot for a long time and ignite in your trash. Take your ashes outside, and use water to extinguish any hot coals.
Fireplaces use a chimney or a vent system to carry dangerous gas and smoke safely out of the home. This gas and smoke includes water vapor, unburned wood particles, hydrocarbon volatile, tar and assorted minerals, which accumulate over time in your chimney. This accumulation is called Creosote is usually black or brown and can be flaky, sticky, or hard. It is unavoidable and is highly combustible. Therefore, it's important to have a professional inspect your chimney regularly and cleaned if needed.
Never burn Christmas trees in your fireplace. The needles of the tree contain highly flammable oils that create more Creosote in your chimney flue. Christmas trees burn extremely fast and can overwhelm you.
Never go to sleep with a fire in your fireplace or wood burning stove. Fireplaces and wood burning stoves should not be your only source of heat. Use a furnace.
Furnaces should not have debris near the heat source. When the furnace lights up, any material lying against the furnace could catch fire and spread.
Space heaters should automatically shut off when tipped over. Suggested models are available on their website.
Smoke and Carbon Monoxide detectors should be checked every month to ensure the battery is strong. Suggested models are available on their website.
Additional tips can be found on the Flood Specialists website at http://we-restore.com/fire-restoration.html.
Flood Specialists, Inc. is one of the largest providers of water & fire restoration services in Chicago and a leader in the industry. They are able to handle the largest water and fire problems in both commercial and residential properties and provide 24/7 emergency service. For more information about their services, visit http://we-restore.com.
# # #