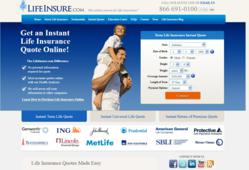 LifeInsure.com allows consumers to see the full database of life insurance rates/quotes without the requirement of providing personal information
Pasadena, CA (PRWEB) January 11, 2012
LifeInsure.com, a leader in online life insurance, publishes tips on how to purchase life insurance online.
As the Internet continues to provide a convenient and streamlined method of selling products and services, the number of websites offering term life insurance quotes has exploded. "Many of these companies do a great job of presenting quotes and selling insurance,' says Richard Reich, President of Intramark Insurance Services. "But, the consumer should know some major differences in the types of life insurance websites that appear when searching on the Internet."
LifeInsure.com offers tips on their website for shopping online for a life insurance policy. Included in these tips is an examination of the four types of life insurance Websites:

Life insurance company websites – used mostly for informational and branding purposes, but some have quote request forms. The companies will typically forward your information to their agents or brokers.
Websites that have the appearance of consumer sites but are actually lead-generation websites. Leads (your information) are sold to other agents and brokers, sometimes as many as 8 times.
Sites where the visitor can get quotes from multiple companies, but must enter contact information (name, email address, phone number). The reputable companies that do this will protect your private information and won't sell it to other companies. Unfortunately, not all the companies that do this are concerned about your privacy. "If you work with a company that does ask for this information just to offer you quotes, make sure you read their privacy policy thoroughly to ensure that your information won't go out to other companies or brokers," adds Reich.
Websites where the visitor can get quotes from multiple companies anonymously, by entering basic information (date of birth, state, height and weight, amount of insurance and length of term). Personal information is only required if the consumer decides to apply for a policy.
The last type is the most consumer-friendly and offers the most privacy of the various Website types, says Reich. "We published these tips so consumers can easily identify each type of site out there. We also feel very strongly that consumers should know up front that, on certain types of sites, their information will be shared."
About LifeInsure.com
LifeInsure.com has been providing life insurance quotes and advice on their Website since 2003. The site allows consumers to find the rates available on the life insurance database without giving any personal information and to do so as many times as that consumer wants. Only when the consumer decides they'd like to purchase a policy is this information required.
# # #