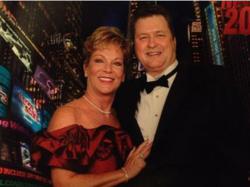 Dallas, TX (PRWEB) January 09, 2012
It was snowing that magical New Year's Eve in 2000 when Joe 'Ken' West popped the question, and by the beautiful month of May in 2001, he and NBRI Founder Dr. Jan G. Stringer (West) were married. A highly successful businessman in his own right, Ken had taken several companies public, currently owned his own, and was an expert in information technology hardware and software. Even before the wedding, Ken began devoting a great deal of time to the development of an online presence and online surveying tools for NBRI – the first ever in its history - while still running his own company.
Computers 'for all' had entered the marketplace in 1977, and became common in the mid-1980s. In 1982, the Internet Protocol Suite(TCP/IP) was standardized and the concept of a world-wide network of fully interconnected TCP/IP networks called the Internet was introduced. It was many years before websites were common to all organizations, and even into the 1990s, the internet was not perceived as secure enough to protect a company's customer or employee opinion data. But by 2000, there were numerous, legitimate businesses on the internet,
and the internet became a critical factor in the growth of all organizations, including NBRI. Indeed, websites as storefronts effectively leveled the playing field between Fortune 500 Companies and One Man Shops, as both could appear equally large and impressive via the internet. To harness this power could mean exponential growth for NBRI, rather than the one-to-one in person marketing of the past. And this was Ken's key strength.
In addition to the first head of Information Technology, Ken was the first Operations Manager, implementing most of the standardized policies, procedures, and processes that make NBRI the efficient, high-quality organization it is today. Even in the early years, just a few employees were generating the output of more than one hundred people due to Ken's innovative, technology-driven insights that not only increased productivity but also eliminated error and improved quality.
Today, Ken continues to make significant contributions to NBRI in the areas of Internet Marketing, Information Technology, and Operations. Through good times and bad, including 9/11 just months after his wedding, and the Recession of 2008 seven years later, Ken continues to be a powerful driver behind NBRI's success. NBRI leads its industry in Thought Leadership, and has made Scientific Psychological Research, Benchmarking, and Advanced Analytics available and affordable to all organizations. After 30 years, NBRI Research Studies provide the insight into the thinking of customers and employees that is necessary to manage their behaviors and improve financial performance in every organization.
###