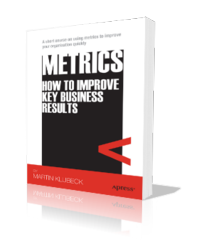 "The saying goes, 'what gets measured gets accomplished,' but that's easier said than done. " says author Martin Klubeck.
New York, NY (PRWEB) January 09, 2012
Metrics—measuring business results in an organized manner to track and improve key performance indicators—are a hot topic these days. Business people need to know how to use metrics to improve products, service, strategy, customer satisfaction, sales, profits, and much more. The mantra of bosses and board members is: "Give us metrics." Metrics show managers how they're doing, where they can improve, and how they can make better decisions. And that's exactly what "Metrics: How to Improve Key Business Results," the new release from Apress Media helps readers do, all while walking them through a step-by-step process.
"The saying goes, 'what gets measured gets accomplished,'" says author Martin Klubeck, a strategy and planning consultant at Notre Dame University. "But that's easier said than done unless you have a process to collect the right data, turn it into useful measures, and use the resulting information effectively and responsibly."
Sounds daunting but "Metrics" not only delivers on these essentials, it also breaks the mold for books on this subject. It does not, for example, contain complicated statistics, canned measures, or complex theories. Instead, it outlines a simple-to-implement system that will help managers deliver customizable, individual metrics adaptable to any business model. Klubeck states: "This book is for the front-line worker who is asked to produce data. It is for the change agent tasked with giving leadership metrics that show what needs to change, why, and how. It is for the manager who is told to come up with metrics, but doesn't know what they should be, or what they even look like."
"Metrics" will help readers measure the right things, the right way—the first time. No wasted effort, no chasing data. In constructing a "report card" that pertains to their unique situation, readers will have a powerful tool that summarizes progress in organizational capabilities, product/service health, financial strength, process efficiency, and any other category that contributes to business success.
In short, this guide puts a metrics program that is vital to a company's success within reach for businesses of all sizes and managers in all industries.
To learn more about "Metrics: How to Improve Key Business Results," visit http://www.apress.com/9781430237266
Metrics: How to Improve Key Business Results

by Martin Klubeck
ISBN13: 978-1-4302-3726-6
300 Pages
Publication Date: December 7, 2011
Available eBook Formats: EPUB, MOBI, PDF
Print book: $29.99
Ebook: $20.99
About Martin Klubeck
Martin Klubeck is a strategy and planning consultant at the University of Notre Dame and a recognized expert in the field of practical metrics. He is coauthor of Why Organizations Struggle So Hard to Improve So Little and numerous articles on metrics. Klubeck is also the founder of the Consortium for the Establishment of Information Technology Performance Standards, a nonprofit organization focused on providing much-needed standards for measures.
About Apress Media
Apress Media LLC is a technical and business publisher devoted to meeting the needs of IT professionals, software developers, programmers, and business leaders with more than 1,000 books in print and electronic formats. Apress provides high-quality, no-fluff content that helps serious technology professionals build a comprehensive pathway to career success. For more information about the innovative approach Apress takes to publishing, please visit http://www.apress.com.
###