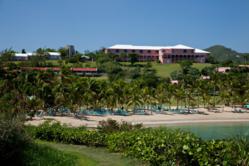 Christiansted, St. Croix, USVI (PRWEB) January 10, 2012
"Legends & Luxury" is a new collection of four packages that highlights St. Croix's history and heritage, and the new luxury enhancements of The Buccaneer resort, celebrating its 65th anniversary throughout 2012 as the Caribbean's longest-running resort.
Created for couples, families, spa-lovers and those who want it all, the four "Legends & Luxury" packages – Immersion, Indulgence, Romance, and Family – feature exceptional resort value and the historic and environmental treasures of The Buccaneer and St. Croix. Each package includes: breakfast buffet each morning; daily Kids Camp for 4 to 12 year olds; use of snorkels, kayaks and floating mats at the beach; scuba lessons; welcome rum punch at check-in; general manager's cocktail reception (Tuesday), and a nature and history tour of the resort.
"Legends & Luxury: Immersion," for those who want it all, features five nights in the resort's top-of-the-line beachside Doubloons, two 50-minute spa treatments, a sunset sail, dinner for two with wine, an 18-hole game of golf, three hours of tennis, and a rental car for five days. Four island experiences are also included: a private island tour with lunch, a half-day snorkel trip to the renowned coral reef at Buck Island, and a choice of two of three activities – kayak tour, scuba diving or horseback riding -- at scenic sites. The package is $6,125 January 22-April15, and $4,520 April 16-December 16, based on double occupancy. Additional nights are available at special prices.
The four-night "Legends & Luxury: Family," one of The Buccaneer's most value-oriented packages, includes two connecting oceanfront rooms with private patios for up to two adults and four children under 18, a car rental for the entire stay and daily Kids Camp for 4 to 12 year olds. Kids Camp, complete with its own clubhouse, trained counselors, indoor and outdoor creative activities, naps and lunches, offers a "separate but equal" resort experience for children. The four-night package is $5,910 January 22-April 15, and $4,010 April 16-December 16.
"Legends & Luxury: Indulgence" focuses on spa treatments inspired by the Caribbean seaside setting. Guests may add the "Indulgence" package to their accommodations of choice for $665, double. It includes a Sea Silk body polish using marine products, aromatherapy massage, a cleansing facial, and a mani/pedi. The package also includes gentle fitness: Yoga for two at the historic Sugar Mill or on the beach, and a guided morning stroll through The Buccaneer's scenic estate. "Indulgence" guests receive a large bottle of Noni, oil from an ancient, tropical medicinal plant with healing properties for the skin.
"Legends & Luxury: Romance" is offered as an add-on to accommodations for $1,100 for two people, and features a one-category room upgrade with a guaranteed king bed; private airport transportation to and from The Buccaneer; in-room welcome champagne and chocolate; in-room couples' massage, and a sunset sail. Three meals are included: lunch at the beachside Mermaid restaurant; three-course Terrace dinner with wine, and a picnic lunch at The Buccaneer's secluded Whistle Beach. "Romance" also features a half-day sail to the renowned coral reef national monument Buck Island, and a one-day car rental to explore the island's historic and cultural landmarks. Finishing touches to the package are the gift of two plush bathrobes and a late check-out.
The Buccaneer is the Caribbean's most historic resort, owned and managed by the Armstrong family for 65 years, and recognized by the National Trust as a Historic Hotel of America. Its 138 spacious, elegant rooms are spread over 340 acres: in the signature pink Great House, on two of three beaches, and on ridges overlooking the sea, gently-rolling golf greens and acclaimed tennis center. Two swimming pools, three restaurants, a renovated spa and fitness center, and a designer boutique enhance the ambiance of a self-contained destination resort.
The Buccaneer is a partner in Stash Hotel Rewards, a rewards program offering free nights at independent hotels throughout the United States. For Buccaneer reservations visit http://www.thebuccaneer.com.
###